Discover more from Prada's Pictures
NBA and WNBA Xs and Os for any fan to understand.
Over 2,000 subscribers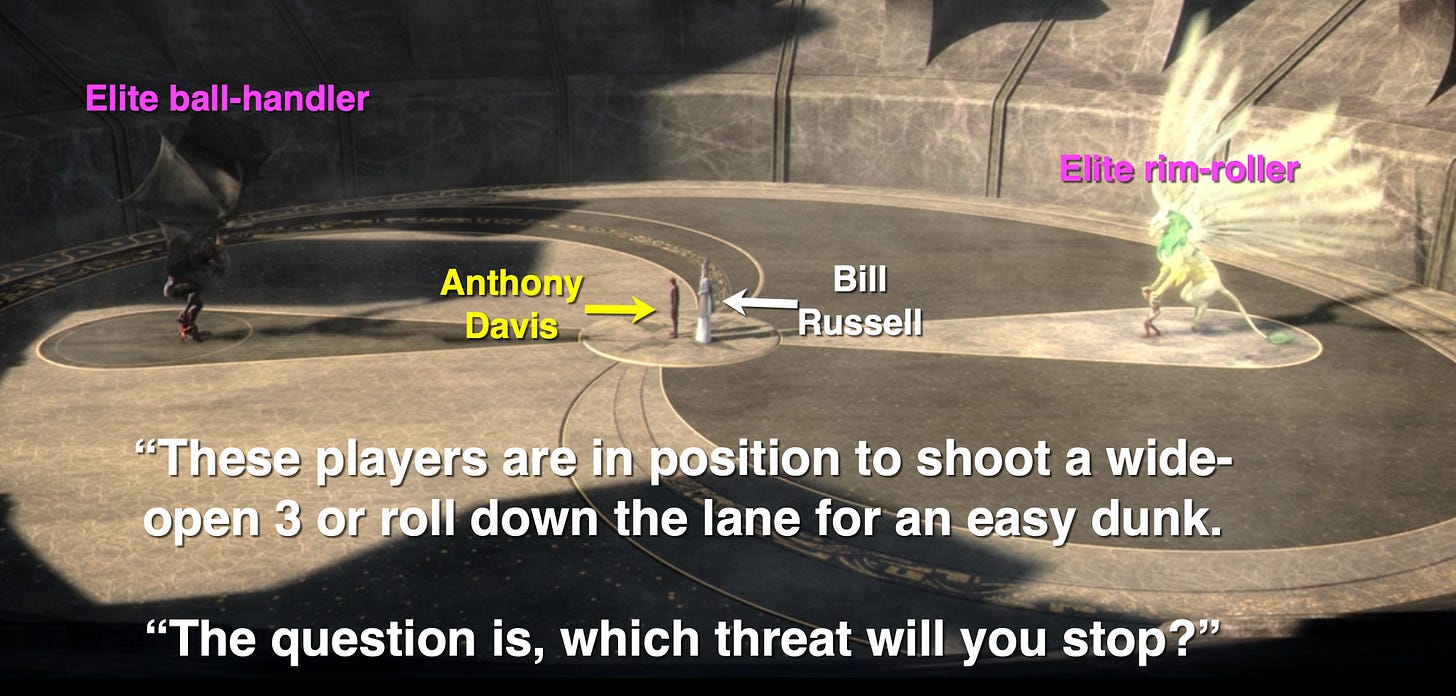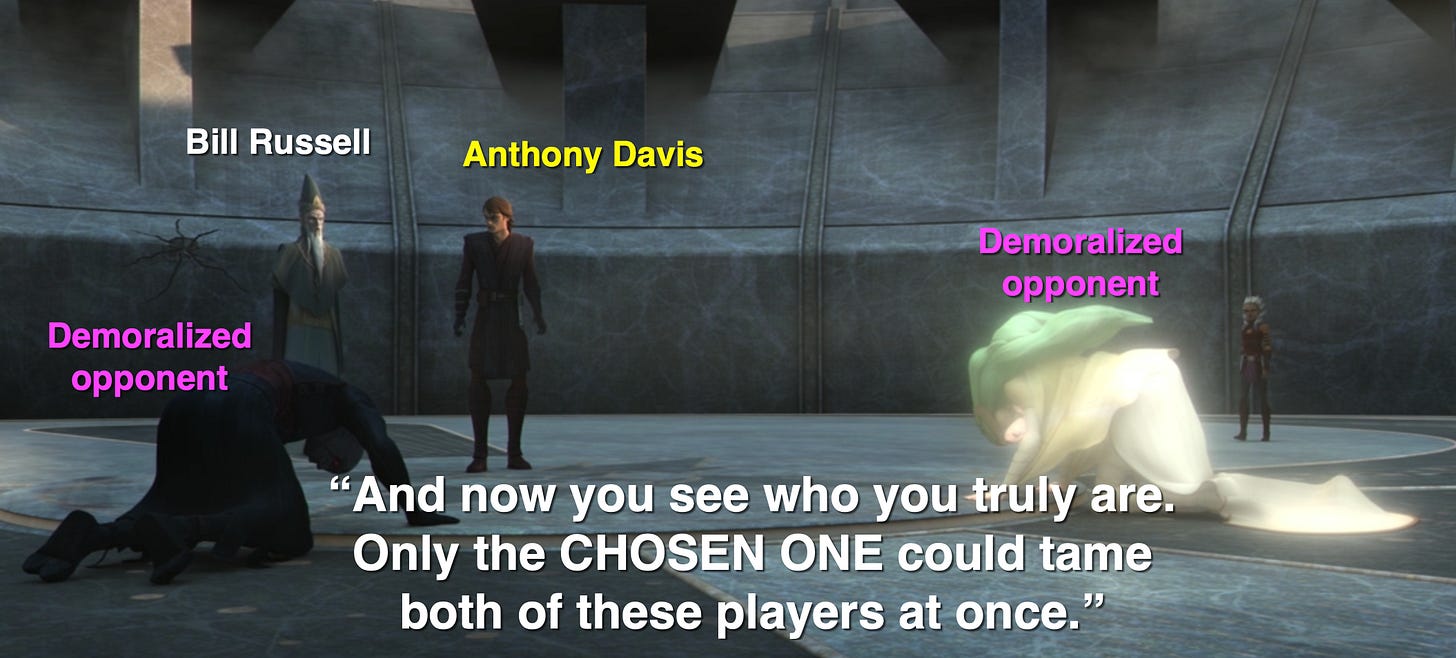 (This is from Season 3, Episode 15 of The Clone Wars animated series. Here's the original clip).
As a montage of Anthony Davis defensive highlights played during halftime of Game 6 of the 2020 NBA Finals, ESPN's Mark Jackson did what he often does. He made a bold statement.
"Somewhere, the great Bill Russell is watching this," Jackson began. "Greatest defensive player that's ever played this game. [He's] saying, 'That is masterful.'"
You don't hear comparisons to the NBA's ultimate winner often. Before Be Like Mike became more than a marketing slogan, stars yearned to Be like Bill. He wasn't just a player. He represented a philosophy that infused every game, every possession, every second. He was the model of success in the sport.
And that model required toeing the line between unselfishness and intimidation. Russell didn't just play great defense. He was a one-man presence who, through the combination of his size, length, skill, versatility, and intelligence, turned it into a form of psychological warfare that lifted his team's spirit while breaking his opponents'. He showed all who followed that it was possible for one player to have an exponential impact on the result.
In invoking Russell's name, Jackson wasn't just presenting another great defender as a model for Davis' play. He was saying that Davis, though his unique defensive combination of intimidation and unselfishness, had an exponential impact on the game. Just like Russell once did.
For once, Jackson's bold statement was appropriate. Anthony Davis' defense had broken the Heat, just as it broke the Denver Nuggets, Houston Rockets, and Portland Trail Blazers. His contributions to the Lakers' success transcended any known human descriptor, even if he didn't have enough narrative sway to win Finals MVP (an award ironically named after Russell himself). The only way to describe Davis' magnificent play was to analogize it to the game's greatest winner.
In these playoffs, Anthony Davis really did become (Snoke voice) A New … Russell. And he did it while fulfilling the promise he showed nearly a decade ago as a baby-faced Kentucky freshman.
---
It's March of 2012, back when LeBron James couldn't win the big one. As the pressure on the grand Miami experiment was Heating up, a college superteam in Kentucky was rolling through the NCAA tournament.
These Wildcats didn't have a go-to scorer or the elite playmaking point guard that had become John Calipari's hallmark. Their supporting cast would eventually disappoint at the next level, at least compared to other Kentucky rosters. But they did have Anthony Davis, a late-bloomer whose limbs stretched to the sky while retaining their agility from his guard days.
Davis was fourth on the team in shot attempts and seventh in usage. He didn't have much of an offensive game. But it didn't matter because you felt him everywhere on defense. You just knew he was the most dominating player in college hoops' recent memory, even if you couldn't fully articulate it. What other player could go 1-10 from the field in the national title game, not score a single point until five minutes into the second half, and still unanimously and thoroughly be the best player on the floor?
Well, there's one other guy that comes to mind. In the months following that game, Nathaniel Friedman (aka Bethlehem Shoals, the founder of the most influential basketball blog of all time) polled a group of grizzled hoops veterans and rising scribes to understand Davis' appeal. The result was this ESPN The Magazine piece in which:
Bobby Knight explicitly referred to Davis as a "young Bill Russell."

Larry Brown said Davis was a) in the "class" of Russell, Wilt Chamberlain, and Oscar Robertson, and b) a player whose mere presence would turn a lottery team into a 50-win club overnight.

The late John Thompson Jr., who actually played with Russell in the 60s, embraced the comparison, though cautiously. "Davis' arms don't always seem connected to his body in a stiff way. A lot of guys can block shots, but they collide into you with their body. Russell had the ability to go into the air, but he also could manipulate his arms in a manner to prevent from fouling. What remains to be seen is if Davis is able to do it strategically and with the mental approach that Russell had to blocking shots."

ESPN analytics pioneer (and Prada Pictures subscriber!) Kevin Pelton highlighted Davis' Russell-like quality of keeping his blocked shots inbounds so they could trigger fast breaks.
These guys had (and have) seen a lot, and yet they all went straight to the same comparison.
And they weren't even the first to do so! Here's then-Louisville coach Rick Pitino after Davis dominated the Cardinals in the Final Four:
"Anthony Davis is the No. 1 player picked in the draft," Pitino said. "When you're playing against Bill Russell at the pro level, you realize why the Celtics won 11 world championships.

"When you see this young man at the collegiate level, you realize why they're so good. Not that their other players aren't, but he's so much of a factor."
Lofty praise is one thing, but what did it really mean to invoke Bill Russell comparisons at the time? Symbolically, Russell was the player whose contributions to winning transcended the box score. Davis was undoubtedly that kind of presence at Kentucky — only Zion Williamson had a better individual plus/minus this decade. But the parallels between the two ran far deeper on the court.
For all of Russell's athletic and technical brilliance, his success came down to a simple principle. "If he is thinking instead of doing, he is yours," Russell once told Alexander Wolff, author of 1993's 100 Years of Hoops: A Fond Look Back at The Sport of Basketball. (HT: Reddit). He didn't try to stop his opponents' moves so much as he dictated which ones they could use. Or, to be more accurate, dictated which ones they thought they could use.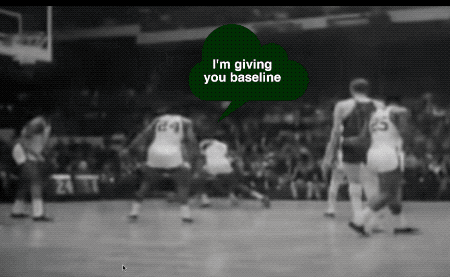 One of Russell's most common sayings is that basketball is a game of habits. As he once told Sports Illustrated: "The psychology in defense is not blocking a shot or stealing a pass or getting the ball away. The psychology is to make the offensive team deviate from their normal habits."
Players spend hours practicing specific movements for every situation, perfecting their muscle memory so it can activate in a split second no matter the setting. If Russell tried to react to those patterns, he'd be too slow. The only way he'd prevail by dispersing some uncertainty into their habits to throw them off. He had to think like an offensive player and make them react to him.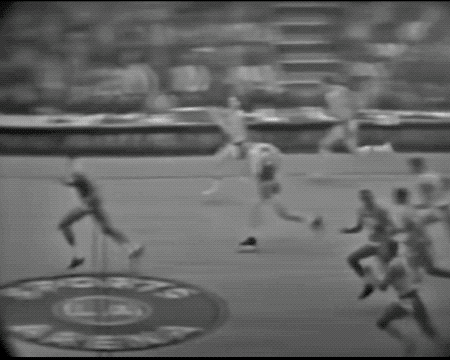 In practice, Russell would first lure the offense into a false sense of security before swatting or dramatically altering a shot. Thanks to his long arms and background as a high jumper, Russell knew he could stand in the lane, wait until the offensive player left his feet, and still cloud their vision. He also understood that blocks are really just vertical deflections, and taking away opponent sight lines via what he dubbed the "horizontal game" was just as important.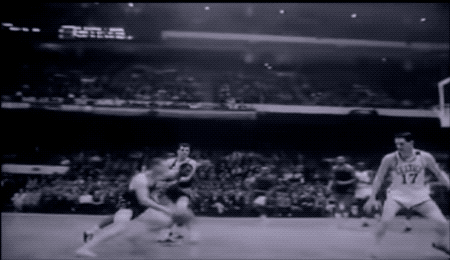 The beauty of Russell's defense-as-offense style was that he didn't need to match his opponents' elaborate moves. He just needed to move his feet at an angle that would allow his long arms to swallow up the eventual end product. Great offensive players and teams who were used to controlling every sequence suddenly lost their most precious resource. Without it, they were stuck operating at Russell's mercy.
The fact that Russell didn't try to block everything only rubbed salt in their wound. They couldn't even catch Russell off-balanced with a pump fake or drive the other way. Russell mastered the art of staying on the floor, ensuring he was always within an offensive player's line of sight. That's how he made his opponents think he was in their face when he wasn't, causing them to rush attempts or try moves they weren't capable of executing.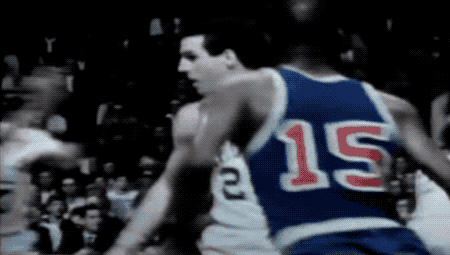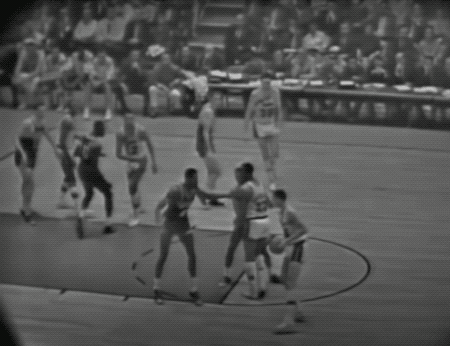 Anthony Davis engineered a similar omnipotence at Kentucky. He seemed to be everywhere, in large part because he didn't try to block everything. He could camp out in the paint, position his arms high in the sky or wide across his shoulders, and let offensive players come to him if they dared. When they did, he either did this.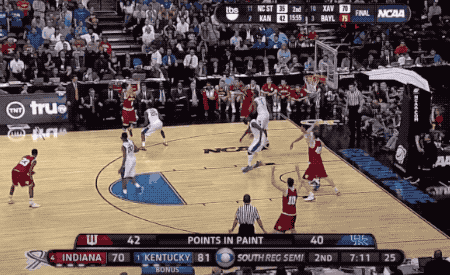 Or this.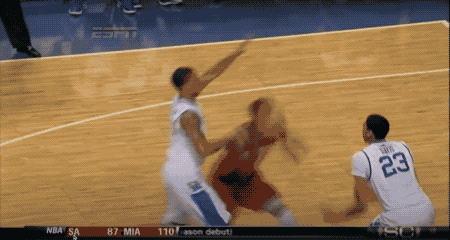 Well-meaning attempts to remove him from the primary action constantly failed. Aided by college hoops' cramped spacing, Davis was never more than a step and an arm reach away from the ball. Like Russell, Davis played the horizontal game as much as the vertical one. Many of the shots he swatted and altered came before reaching the apex of his own jump.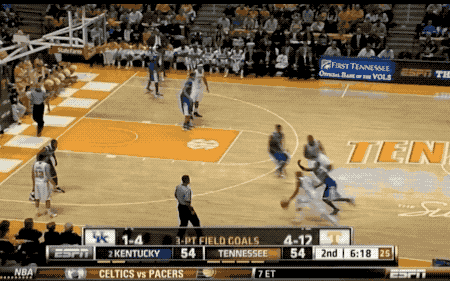 Like Russell, Davis used his unparalled combination of size, speed, and wingspan to cover more ground in fewer steps. He knew he didn't need to mimic elaborate offensive moves or strategies. He just needed to give his arms a chance to throw off the habits that power those otherwise-automatic offensive maneuvers.
As with Russell, Davis didn't need much time to seed doubt in the minds of great offensive players. Thomas Robinson, the bruising power forward that led Kansas to the national title game, spent the entire 2012 NCAA Tournament trucking opponents inside. "When asked about his matchup with Kentucky, Robinson responded: "Anthony Davis is a great player, but he's not Superman."
Then, the game happened, and Robinson pump-faked his way into missed layups and tentative shots.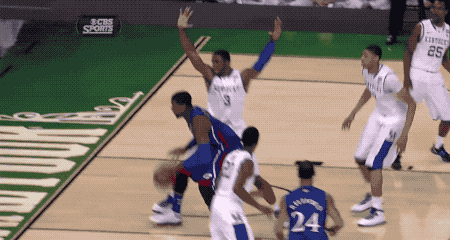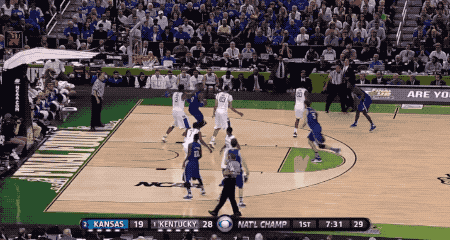 Like Russell, Davis disrupted routine offensive processes. Open shots against them never felt open. Odd-man situations — whether a fast break or a 2 on 1 advantage in a half-court setting — never felt like high-percentage scoring opportunities. Situations where players otherwise scored automatically were suddenly ending in deflections and odd caroms off the rim.
That left their opponents unprepared to respond to the game's next sequence. Legendary sportswriter Frank Deford once described Russell's blocks as "four-point plays" because "the opponents have lost two, and Boston has gained two." That's exactly how Davis and Kentucky blew teams out despite its shaky half-court offense. These two plays happened 49 years apart, but are of the same species.
One block worth (at least) four points. That was Russell's signature in the 60s and Anthony Davis' with Kentucky in 2012. It promised to be Davis' signature in the NBA, too.
That didn't happen right away. Davis didn't elevate his NBA team to 50 wins in Year 1, as Brown predicted. He didn't reach that threshold in Year 2 … or 3 … or 4 … or 5 … or 6 … or (especially not) 7. Those Russell comparisons faded quickly. If anything, Davis' career was following the arc of Russell's chief rival, Wilt Chamberlain. He put up big numbers without the transformative effect on lesser teammates.
And then Davis got himself traded to the Los Angeles Lakers.
---
It's Oct. 11, 2020, and the Lakers are defending a baseline out of bounds play in the second quarter of Game 6 of the NBA Finals. Davis hangs back in the paint, processing loads of information in an instant.
He sees that the Heat have clustered three players together to the right of the free-throw line extended. The fourth is Bam Adebayo, their versatile big and Davis' assignment. As Davis stares at the group of Heat players to his left, Adebayo comes to the ball and catches it. The three other Heat players immediately break apart, while inbounder Jimmy Butler steps over the baseline and into the play.
At this instant, the Heat are presenting three possible sequences:
Duncan Robinson, one of the game's most prolific three-point shooters, coming off an Adebayo dribble handoff into a three.

Robinson continuing his cut, either to go backdoor or screen for Butler, the team's star, coming in from the wing.

All of that being a ruse for Kendrick Nunn or Jae Crowder, the two other players in the original cluster of three, to speed off an Adebayo handoff or go backdoor the other way.
Davis' job is to decide which threat most deserves his attention.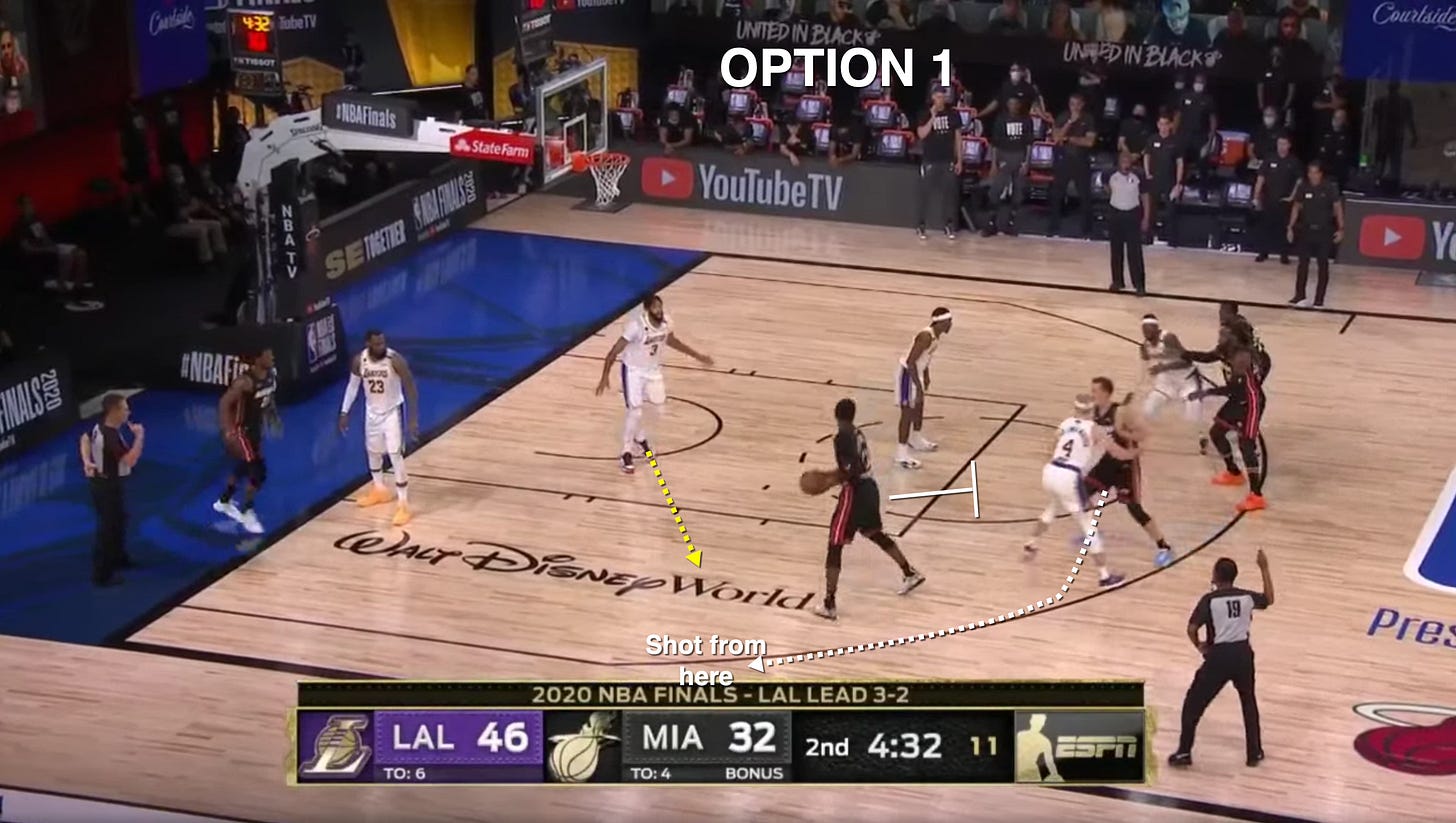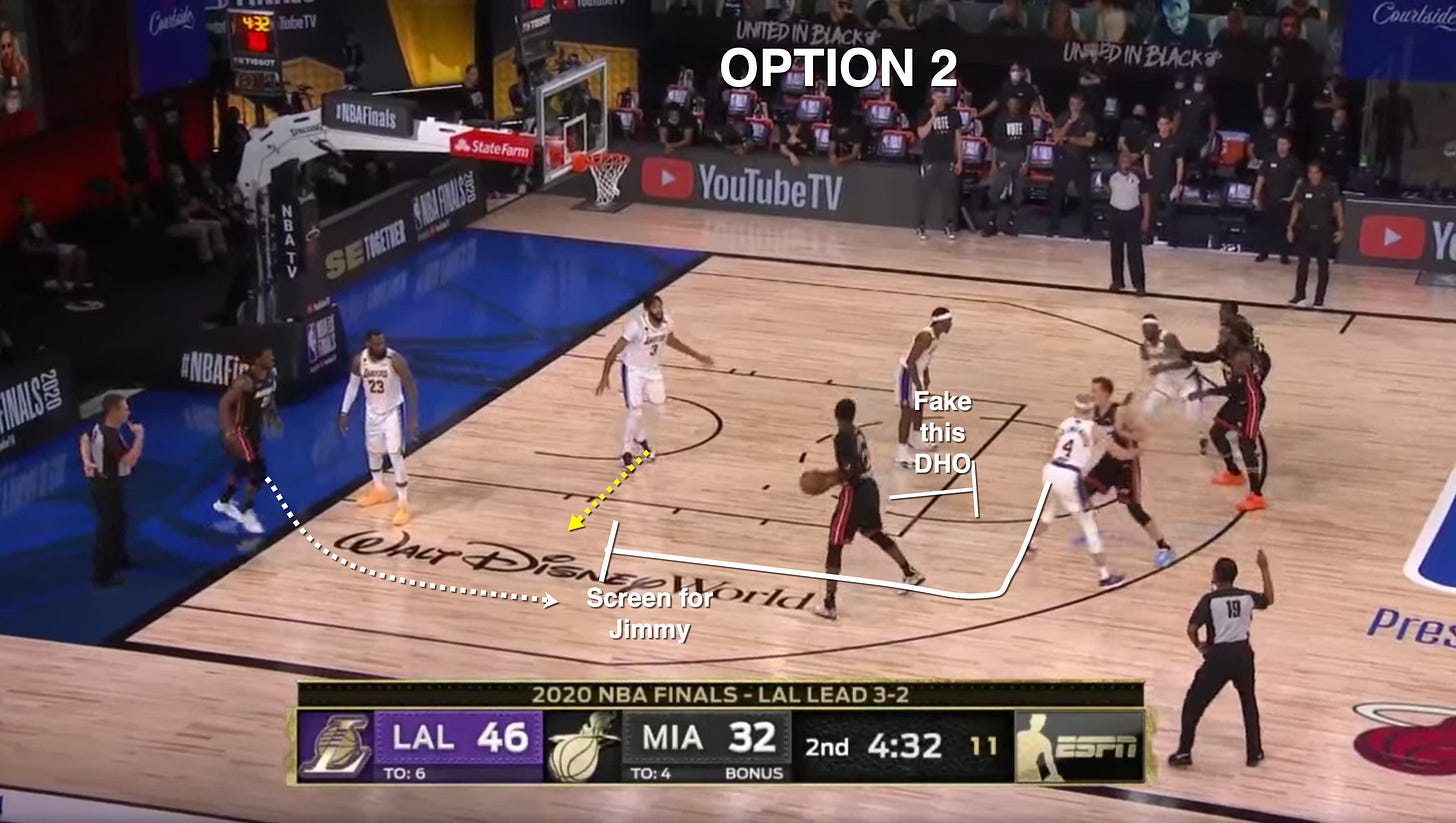 He quickly realizes he can ignore the first possibility because Alex Caruso overplays Robinson to prevent an easy dribble handoff catch. He chooses, correctly, to ignore the second threat, letting Caruso and LeBron James handle it.
That leaves Option 3, and Davis immediately senses a problem. In (successfully) passing Robinson off to Caruso, Kentavious Caldwell-Pope lost body contact with Nunn. Crowder has a clear angle to hit KCP with a screen, and Rajon Rondo, Crowder's man, is not in position to switch effectively. They need Davis to come save them.
How to do so is its own challenge. If Davis reacts too slowly, Nunn can get a clean handoff from Adebayo to shoot an open three. But if Davis jumps out too recklessly, he will shoot too far past Nunn and surrender a drive or, worse, an open lane for Adebayo to roll through and dunk. Davis must balance these two extremes to thwart two plays at once, and his teammates have allowed Miami to get a head start.
Here's how he handles it.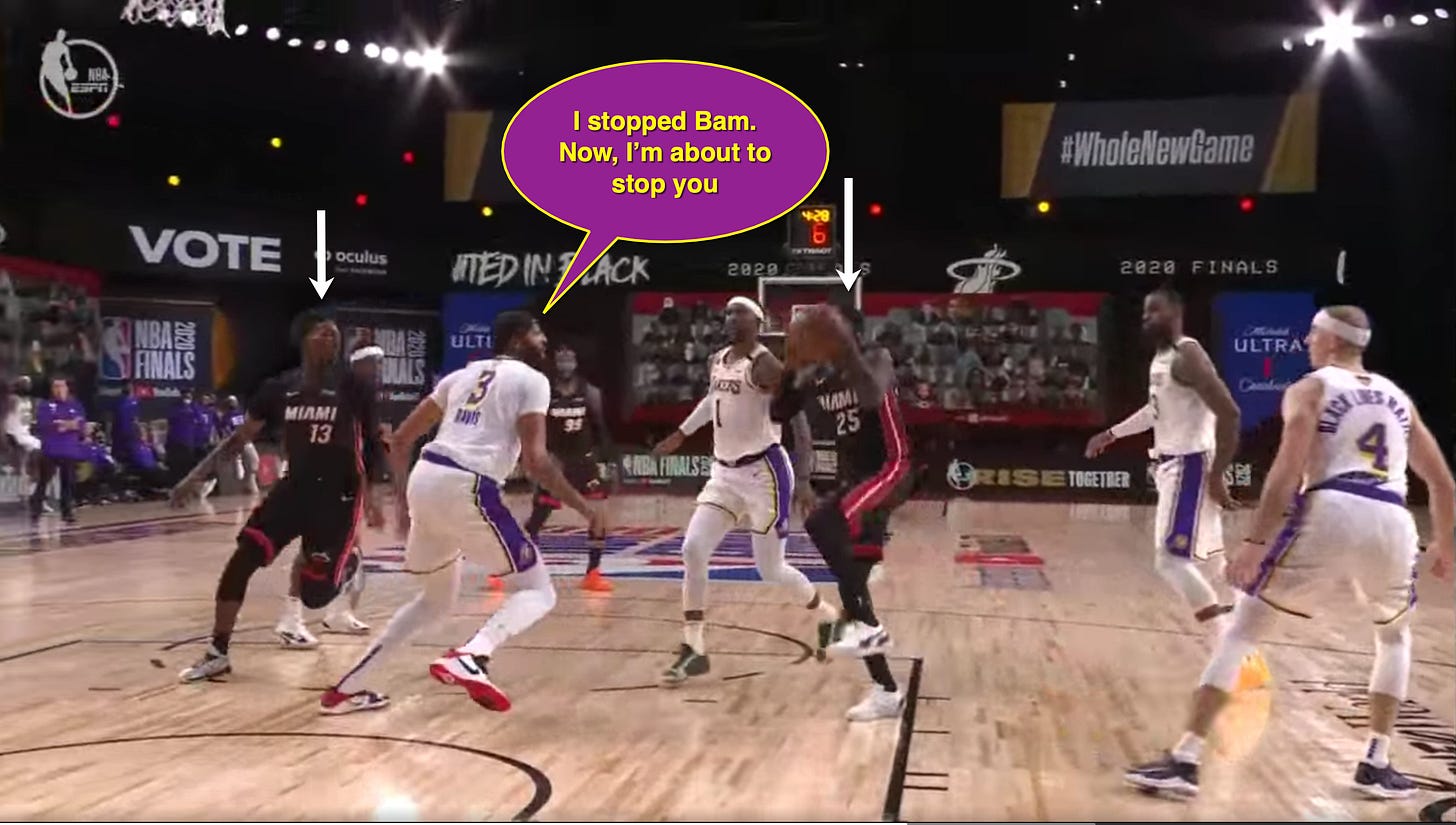 Albert Burneko of Defector Media (i.e. the Deadspin Phoenix club), described Davis' actions as follows:
Nobody keeps his hips turned fully toward Adebayo until Nunn has committed to the layup, then not only whirls all the way around quickly enough to contest the shot, but snakes an endless arm out there and fucking swats the thing. I insist that you scroll back up there and look at the GIF again. Look at Anthony Davis's feet; the small quick steps he takes, so that he can open up toward Nunn with his right foot instead of having to lunge across his body. Look at his arms, filling the space between himself and Adebayo as he takes his eyes off him to watch Nunn. Look at how low he keeps his hips, so that he can move with the action but still spring upward after Nunn has made his choice. Look how suddenly he transforms what looks like an easy point-blank finish at the point when Nunn begins gathering the ball into just a desperately hopeless, doomed punt of a shot a fraction of a second later.
"This is around when I started thinking about Bill Russell," Burneko continues, invoking the same comparison Jackson did during the ABC broadcast. It's a flashpoint moment.
As I watched the play again, my mind flashed to the second part of the Russell Sports Illustrated quote referenced in the previous section:
If I'm back on defense and three guys are coming at me, I've got to do something to worry all three. First I must make them slow up or stop. Then I must force them to make a bad pass and take a bad shot and, finally, I must try to block the shot. Say the guy in the middle has the ball and I want the guy on the left to take the shot. I give the guy with the ball enough motion to make him stop. Then I step toward the man on the right, inviting a pass to the man on the left; but, at the same time, I'm ready to move, if not on my way, to the guy on the left.
This is how Davis thwarted Nunn and Adebayo. He made Nunn slow down, invited him to try to finish, and then swatted the shit out of the ball. In true Russellonian fashion, Davis blocked the ball inbounds to a teammate, which led to a three-point play on the ensuing transition sequence. The opponent lost two and the Lakers gained three.
But even that mental exercise only covers the end of that sequence. The difference between the sport in 2020 compared to 1965 — and even to the college game in 2012 — is that Davis needed to decipher the myriad possibilities the Heat presented to him first. In no particular order:
The three-point threat of Robinson.

The high-post passing, screening, and rolling of Bam.

The dual threat of even average guards like Nunn pulling up from downtown and/or driving through contact.

The creativity of Erik Spoelstra to maximize those threats, combined with the well-drilled, militant execution of his players.

The easily forgotten fact that none of the above references the team's best offensive player, who is also in the game.
As great as Russell was, he never needed to deal with that kind of sensory overload. (I do think the game of the 60s looks more like today's game than one would think, but that's a subject for another piece.)
More to the point, Davis didn't when playing at Kentucky. He could camp in the lane and let opponents come to him. Most opponents deployed two non-shooters up front; that includes Kansas, who paired Robinson with shot-blocking seven-footer Jeff Withey. Davis did his job better than any college player in years, but it was still (mostly) just one job.
He then entered the NBA just as the more traditional two-big setup was giving way to something far different. Davis initially bulked up to handle the pro game's grown men inside, but the game's gradual shift to the perimeter was about to accelerate. As it did, the sensory overload that Davis cut through so easily in 2020 completely overwhelmed him midway through his Pelicans tenure. The GIFs in the third section of this piece from early in the 2015-16 season make him seem more like George Mikan than the second coming of Russell.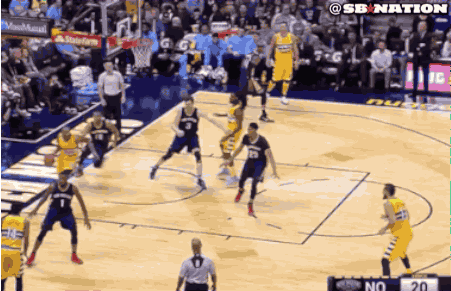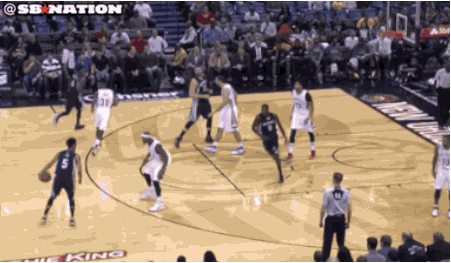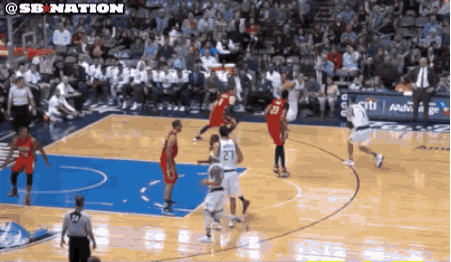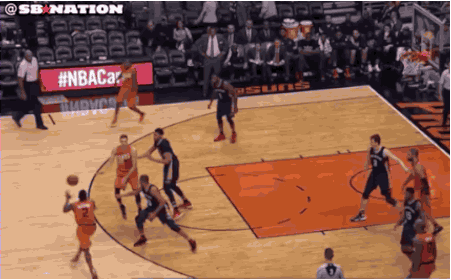 In seven season in New Orleans, Davis' teams posted top 10 defenses just once and were in the bottom 10 five times. Their defensive ineptitude had many causes, not least of which were Davis' own injuries that limited his floor time. But Davis was supposed to be a transformative defensive force whose mere presence could turn laypeople into lockdown artists, not one dragged down by the shaky foundation around him. So what changed?
For one, AD got traded to the Lakers. To state the obvious, that kinda mattered a bit. Davis was now around other people who took defense as seriously as his mates once did at Kentucky. Davis' coaches and teammates in New Orleans were geared more toward offense, and he alone wasn't experienced or mentally strong enough to compensate on the other end all by himself. The Lakers' identity, fostered by Frank Vogel and reinforced by stars and role players alike, was defense. It's a lot easier to lock in when your teammates do, too.
As long as we're stating obvious facts, we should also note that it's also a lot easier to devote mental energy to defense when LeBron James is spoon-feeding you buckets on the other end.
At the same time, Davis was proactively altering his body even before the trade. One of my favorite stories to edit at SB Nation was this Seerat Sohi feature for our Netflix-themed 2018-19 season preview. The purpose of the piece was to show how big men needed to train like smaller players to reshape their bodies and keep up with the demands of the modern NBA. More than that, though, it was a story about the game's longtime ruling class facing something of an existential crisis. What if the attribute that made them special even among their peers suddenly made them extinct? How are they pushing through that mental block?
Seerat quickly convinced me that Anthony Davis was the ideal subject for this premise. She probed Davis' inner circle, gleaning exhaustive details from his personal trainer, Pelicans staffers, and other outside experts. How were they optimizing Davis for a horizontal game that Russell never faced?
This is the most relevant section (emphasis mine):
Years of pushing weights to catch up to an eight-inch growth spurt in high school left Davis with a litany of biomechanical imbalances. He had the torque, the hypermobility, and length, but the smaller muscles that supported his bigger, more developed muscles were weak. So was his core.

"I thought maybe we can improve his mechanics, his ability to absorb shock, his efficiency with running," Dr. Suri says.

The dumbbells hit the shelf, replaced by yoga mats and exercise bands. The treadmill gave way to low-impact cardio: boxing, cycling, beach volleyball, and exercises in the pool. One particular exercise involves Davis dipping to the bottom of a single-leg squat. Sumerlin put a 225-pound bar on his back and has Davis raise up just an inch and hold for 20 seconds.

"We started focusing on balance and trying to maintain a strong base," Scott says. "That was a problem. When he got hit in the air, he'd always get off balance and fall to the ground and get injured."

Davis has always been strong, but that strength didn't always translate to the dynamic, awkward positions players find themselves in mid-game.
I'm reminded of a passage from Chris Ballard's The Art of a Beautiful Game, a 2009 book featuring in-depth interviews with players and coaches explaining their craft in exacting detail. In the final chapter of the book, Ballard reveals that LeBron James, then 24 years old, "eschews power lifts like the bench press … and instead opts for core exercises, dumbbells, and, more recently, yoga." Even in 2009, LeBron, perhaps the biggest player in the sport, wasn't training like a big man. He instead worked to be more agile and on-balance when moving — more like a smaller guy.
Davis was also 24 when he made a similar change. By the time he joined LeBron's team two years later, he had already fine-tuned his body to better repel the fast-moving threats all over the court. He could stay on balance jumping out on the perimeter.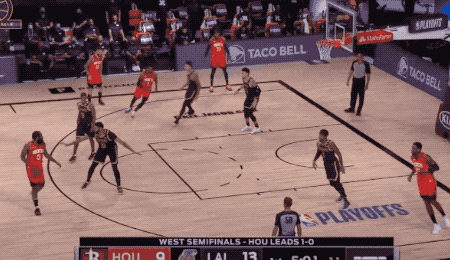 Even if he was beat, he could remain on his feet to pursue ball-handlers from behind.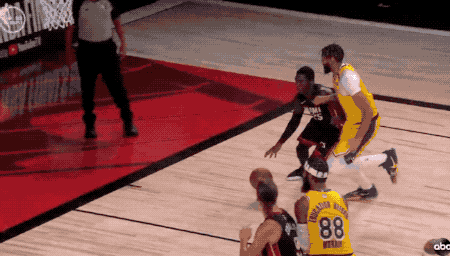 He could cross his feet to change direction quickly against tricky isolation players and still stay on balance.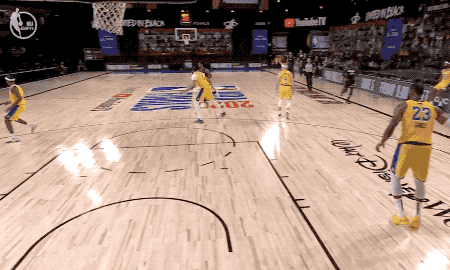 He could hold his feet back and push his arms forward at the same time to stop guards from jumping into him.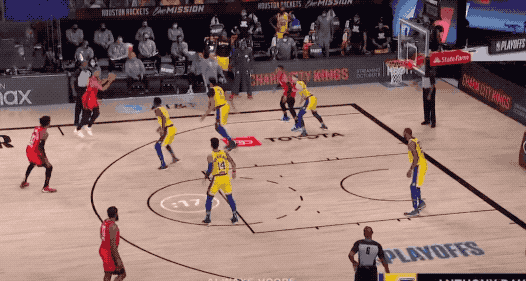 He could stop almost any 2 vs 1 sequence.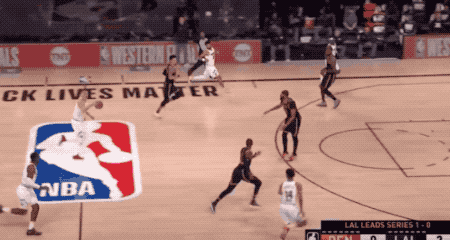 And he could jump out to stop great shooters from firing away.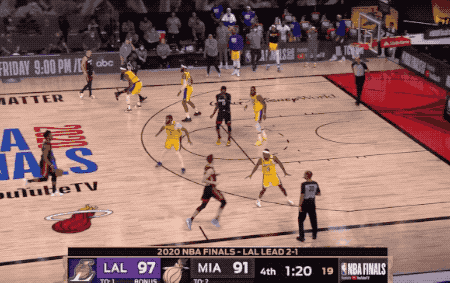 Davis' evolution was the on-court story of the Lakers' 2020 title run. He stepped out to deter the most prolific long-range bomber in the bubble in one playoff series, closed space off ball to stifle its premier one-on-one attacker in another, and limited the game's most versatile offensive big man while erasing one of the sport's most confounding two-man games in a third. He then helped his team win two Finals games roaming off non-shooters, a third locking up the the opponent's best player one-on-one, and a fourth hanging back as a deterrent at the rim. He did everything and anything on defense to add exponential value to his team, and he did it by supplementing the advanced software he possessed since his Kentucky days with the hardware of core strength and flexibility.
And so, more than one hundred months after they were first uttered, Anthony Davis finally fulfilled the great promise of those lofty Bill Russell comparisons. Like Russell, Davis now warps every game through his mere presence. Like Russell, Davis now throws off his opponent's habits. Like Russell, Davis now adds exponential value to the scoreboard with his mere shadow.
But Davis did it in a sport that has become far more difficult for the Russell archetype. Russell dominated in an era where he could mostly chill near the basket. So did most of the big men that tried to mimic him. Davis, on the other hand, has found a way to create the same effect while floating anywhere on the court. He is the portable rim protector the modern game requires.
That's why I'm comfortable ending this piece with my own bold statement. If Davis simply maintains his 2020 performance over the length of his prime, he, and not Russell, will become the new standard by which all of history's great defenders are judged.