Stunt doubles
Why the Miami Heat are so good at defending the league's MVP.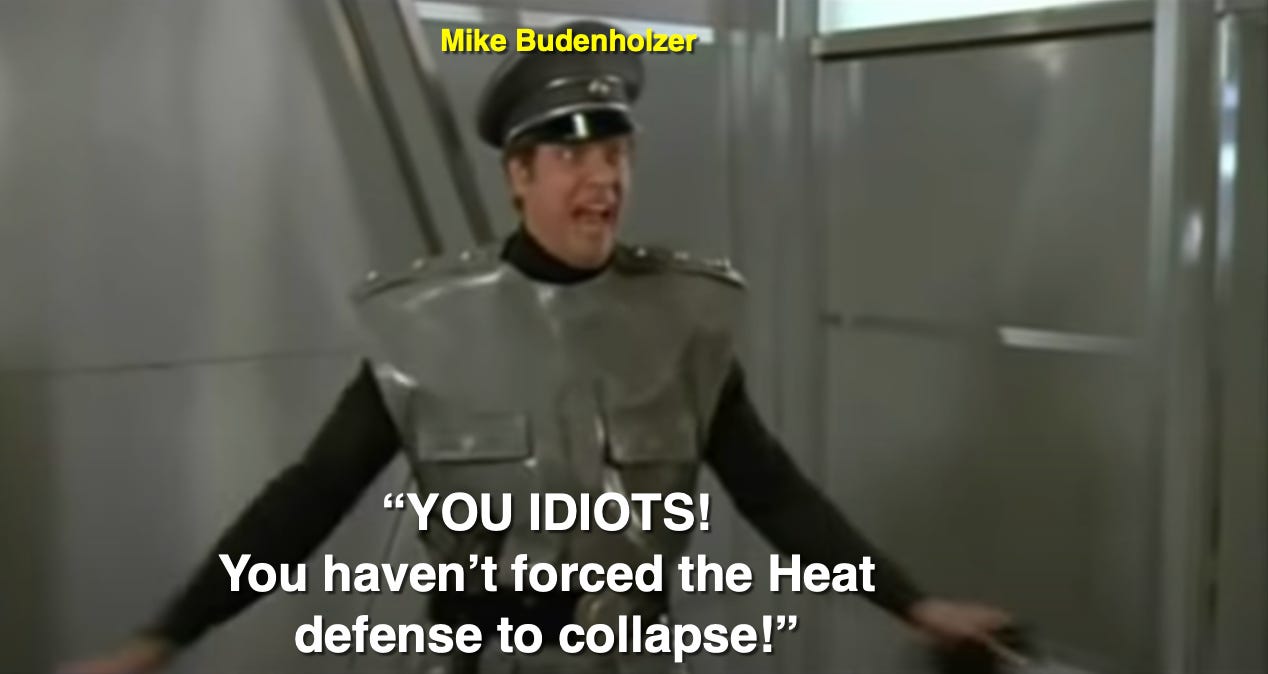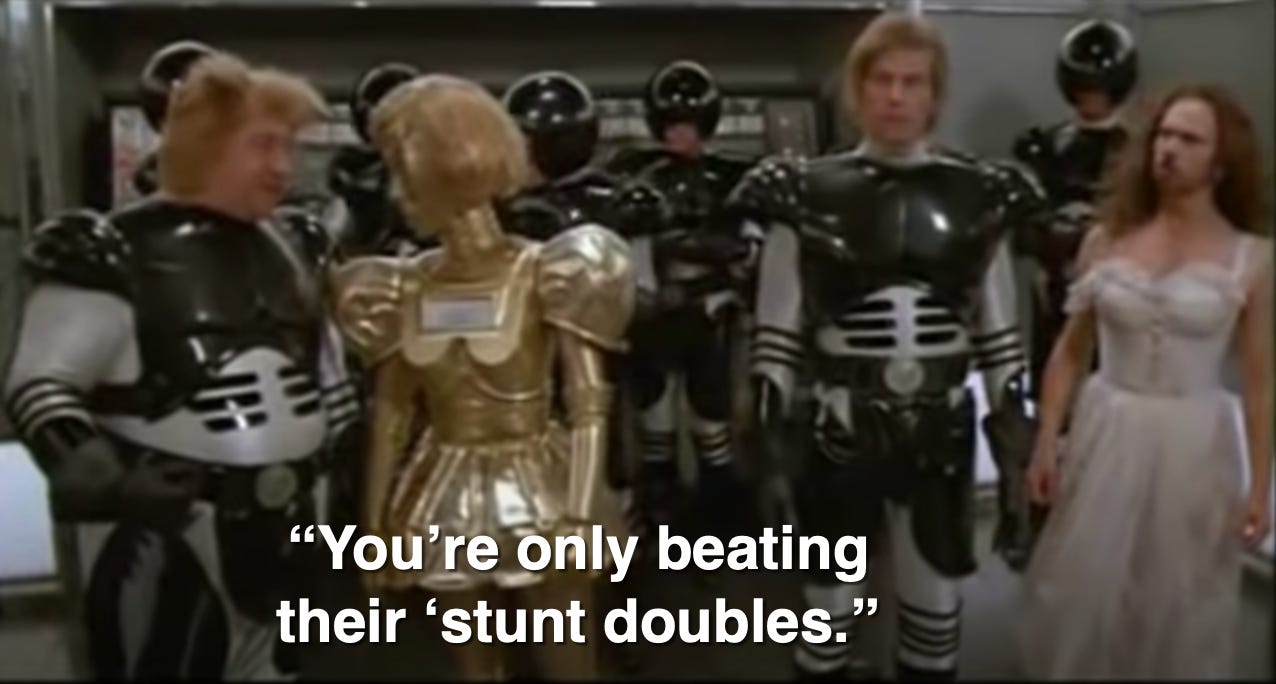 Spaceballs counts as the Star Wars Universe, right?
A few weeks ago, I sent out a survey to begin the long process of writing a book. I want the project to answer questions that actual basketball fans have about the game, and not just questions I think they (you) have. (Keep filling it out if you haven't. I look at every response. I promise!).
One common theme that's emerged is that defense can be hard to process in real time. How does one portion out credit for defensive stops (or blame for scores)? Here's how one responder put it:
I wish I could better tell or understand when a player/team is not following the strategy implemented by the coaching staff, and when the opponent is simply breaking the strategy (i.e. did a breakdown occur because of poor strategy, poor execution, or the opponent just being too good)
That point applies across the board, but it's especially relevant when evaluating defense. Like offense, it requires teamwork and coordination that puts individuals in the best position to succeed. But unlike good offense, which happens when the five players work together to maximize an output they directly control, a successful defensive possession happens when the five players collectively yield no output at all. The team achieves its goal of zero if and only if everyone plays their role, and even then they are responding to their opponent's actions.
You might see that as a cop-out answer, but it's not. It's possible to recognize individual success and failure on defense, but only by reframing the way you measure success and failure. Offense is about achieving a goal. Defense is about achieving our goal.
Good individual defensive, then, isn't best defined by the offense's response as much as the cascading effect on the other four players' ability to carry out the team's objective. There's a reason the visual of "five players moving on a string" is an appropriate metaphor for modern defenses. Each member of the chain is always helping or hindering the other four. The whole point of good defense is that it should be hard for you and I to notice the individual player most responsible for its success.
That's essential to keep in mind when watching the Miami Heat's collective success in slowing down Giannis Antetokounmpo, Khris Middleton, and the Milwaukee Bucks. Through two playoff games and multiple regular-season encounters, Miami has held one of the league's best offenses down not because of one player's effort, well-timed traps, or even through effective switching that requires a series of independent individual efforts. They're doing so by working together as a unit to throw off the Bucks' timing and beat them to their spots as a group. The Heat really are tied together on a string, with each player making the other four's jobs easier.
How have they maximized the collective strength of their string? By using a tactic that's proven especially effective against the Bucks' space-and-drive-and-space-and-drive-etc style: stunting.
What is stunting?
The concept is fairly simple. Stunting is when a defender steps hard toward one player, then retreats back to the one they actually plan to guard. I like to think of it as a defensive pump fake.
It's a move that tries to deceive the opponent while hiding one's true intentions. Much like a pump fake makes defenses think you want to shoot instead of drive, stunting makes offensive players think you're rushing to cover them when you're actually not. The goal is to cause them to hesitate.
Best-case scenario, that hesitation leads to a bad decision — a turnover, a bad shot, etc. But stunting also becomes an effective tactic when it causes the offensive player to make the correct decision too slowly.
You tend to see stunting most in sequences when the defense is outnumbered. It happens when one man must close out on two shooters spaced on the perimeter.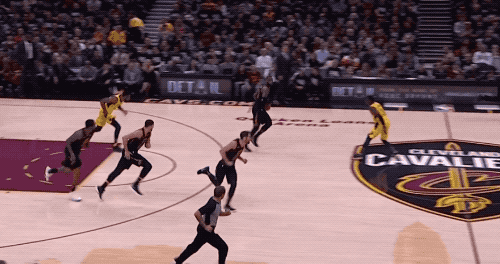 And it happens when a third player aims to deter a pick-and-pop big man from shooting without compromising the rest of their defense.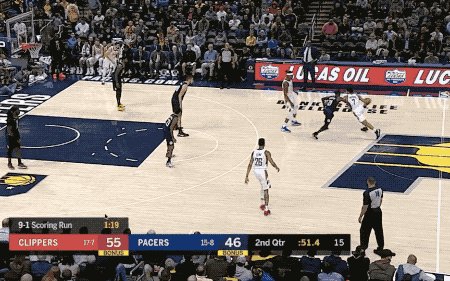 But ever since illegal defense rules were softened, we've seen stunting used in a more aggressive context: to fake a double team on elite offensive players when they have the ball. That started on post-ups, a concept known as "digging down" on the block. (Sixers fans are all too familiar with this term.) But as the game moved to the perimeter, stunting evolved as a means to slow down and confuse elite drivers.
Elite drivers like, say, a Greek Freak. Take your eyes off the ball here and pay attention to Miami's other four defenders.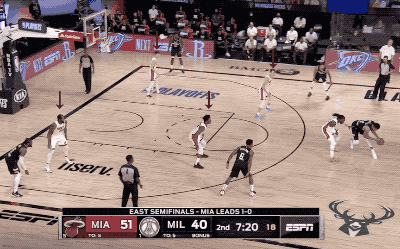 Are they double-teaming? Kinda. Are they switching? Kinda. Does Tyler Herro make a hell of a play to strip Giannis? Of course. But the Heat players are actually just getting in the way without getting so far in the way that Giannis can easily pass to open teammates. They're not stunting to stop Giannis themselves so much as they're trying to make him reveal his intentions a split second sooner than normal.
If that leads to a turnover, great! Live-ball turnovers are great! Dead-ball turnovers like offensive fouls are good, too.
But Miami's stunting works even when it causes Giannis to exhibit a tiny bit of indecision. That makes his drives a bit less powerful, which gives his primary defender a bit more of a chance to perform the seemingly impossible task of absorbing his strength. Bam Adebayo deserves tons of credit for holding his position, but it's easier to absorb 80 percent of Giannis' usual force than 100 percent.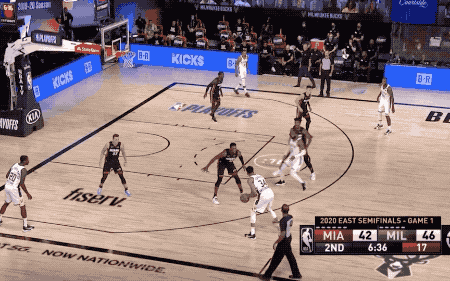 Stunting rather than rushing to double-team early also limits the threat of Milwaukee's three-point shooting. The Bucks' offensive philosophy is simple: spread the floor as much as possible to maximize space for Giannis to drive to the basket. That's why Giannis begins so many of his drives way out beyond the top of the key. He has tons of room to charge in either direction and four passing outlets when opponents send help to contain him. Pick your poison.
Stunting allows Miami to regain control and forces Milwaukee to pick its poison. They show a five-man shell to deter Giannis from driving straight through any one player — "loading up," as some analysts call it. But they don't collapse entirely because their actual intention is to sprint to their assignments if Giannis tries to find an open shooter. Depending on when you freeze the screen, the Heat are either ignoring Milwaukee's shooters entirely or giving them far more respect than they might deserve, with little in between.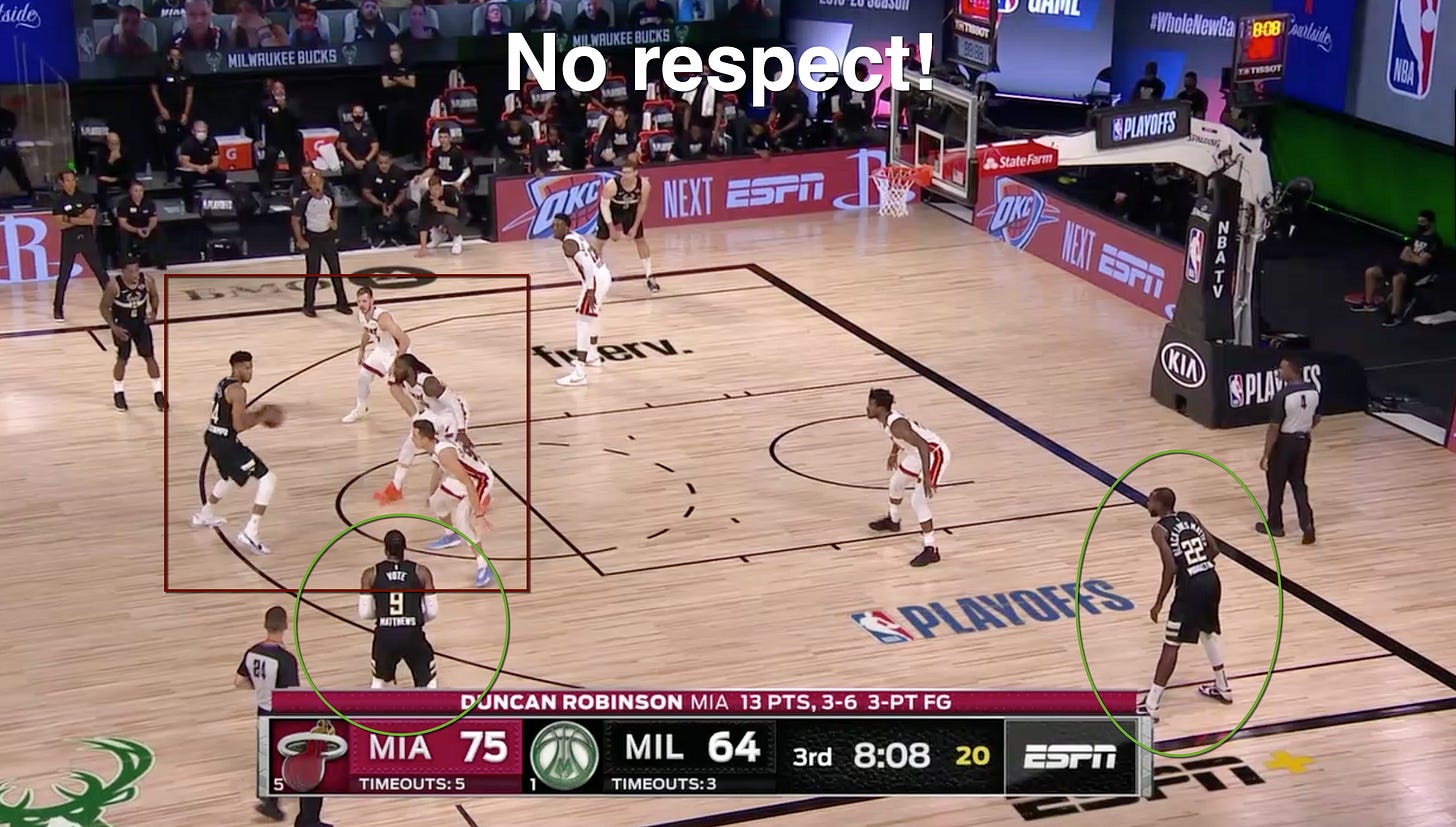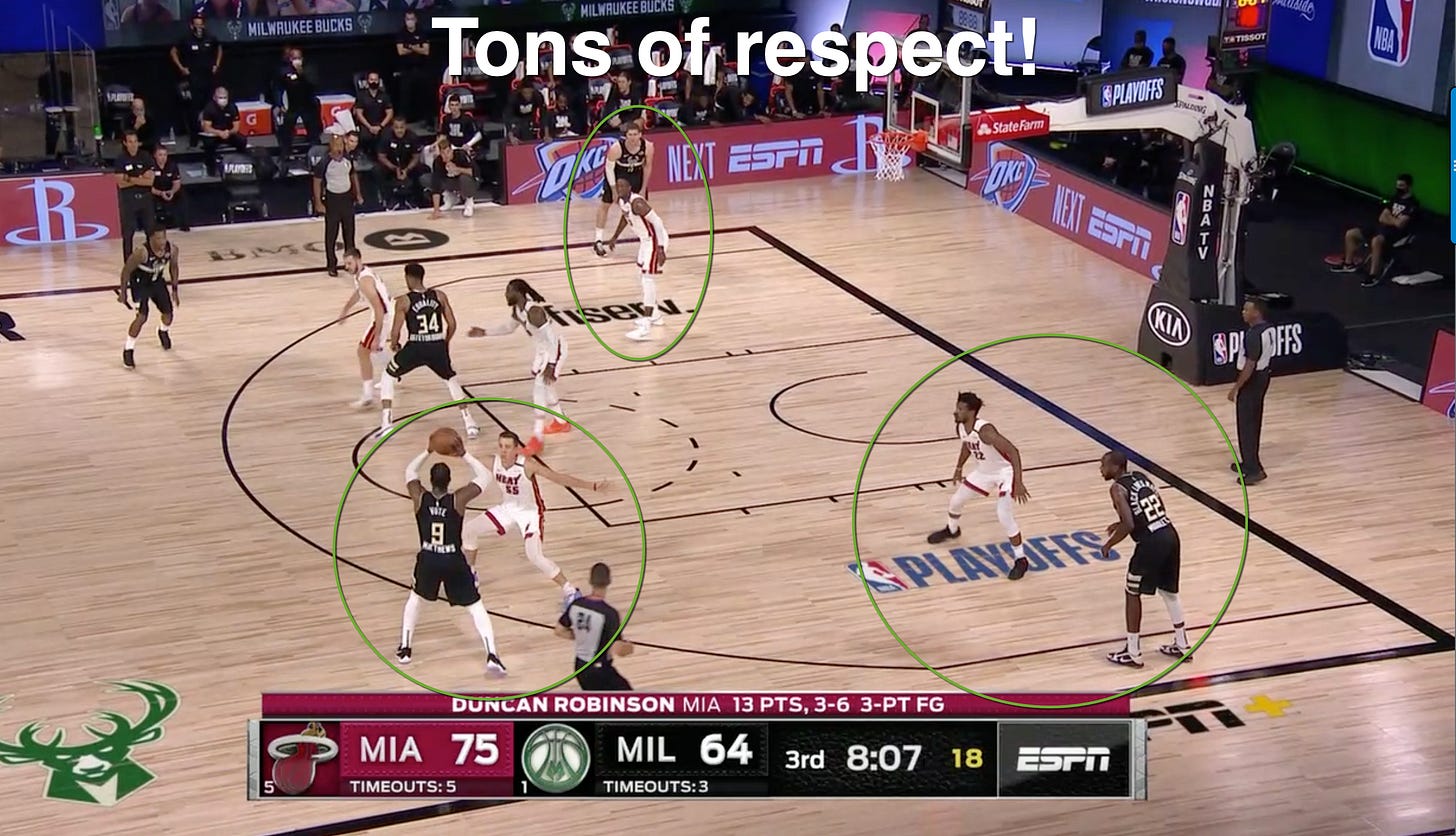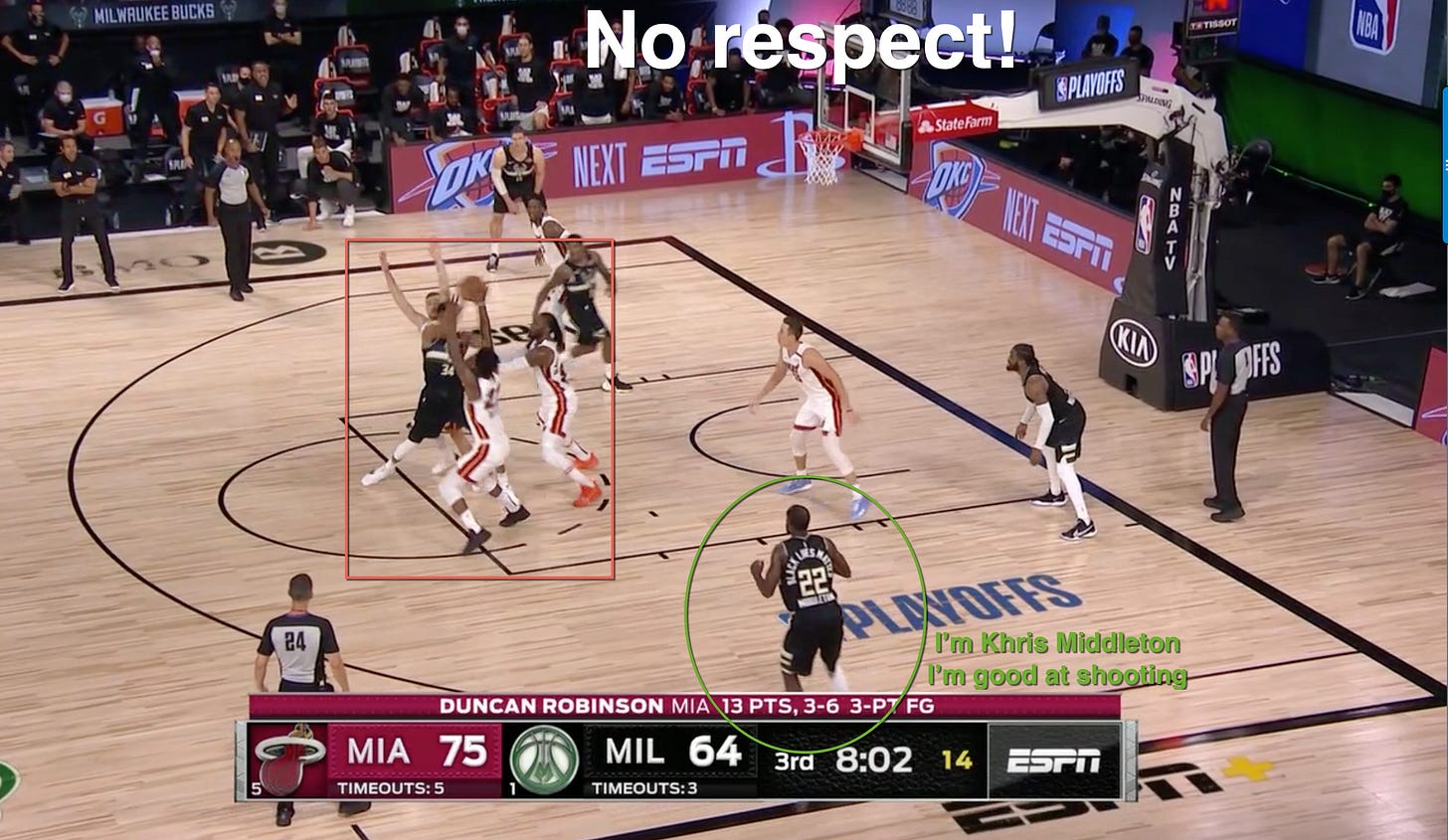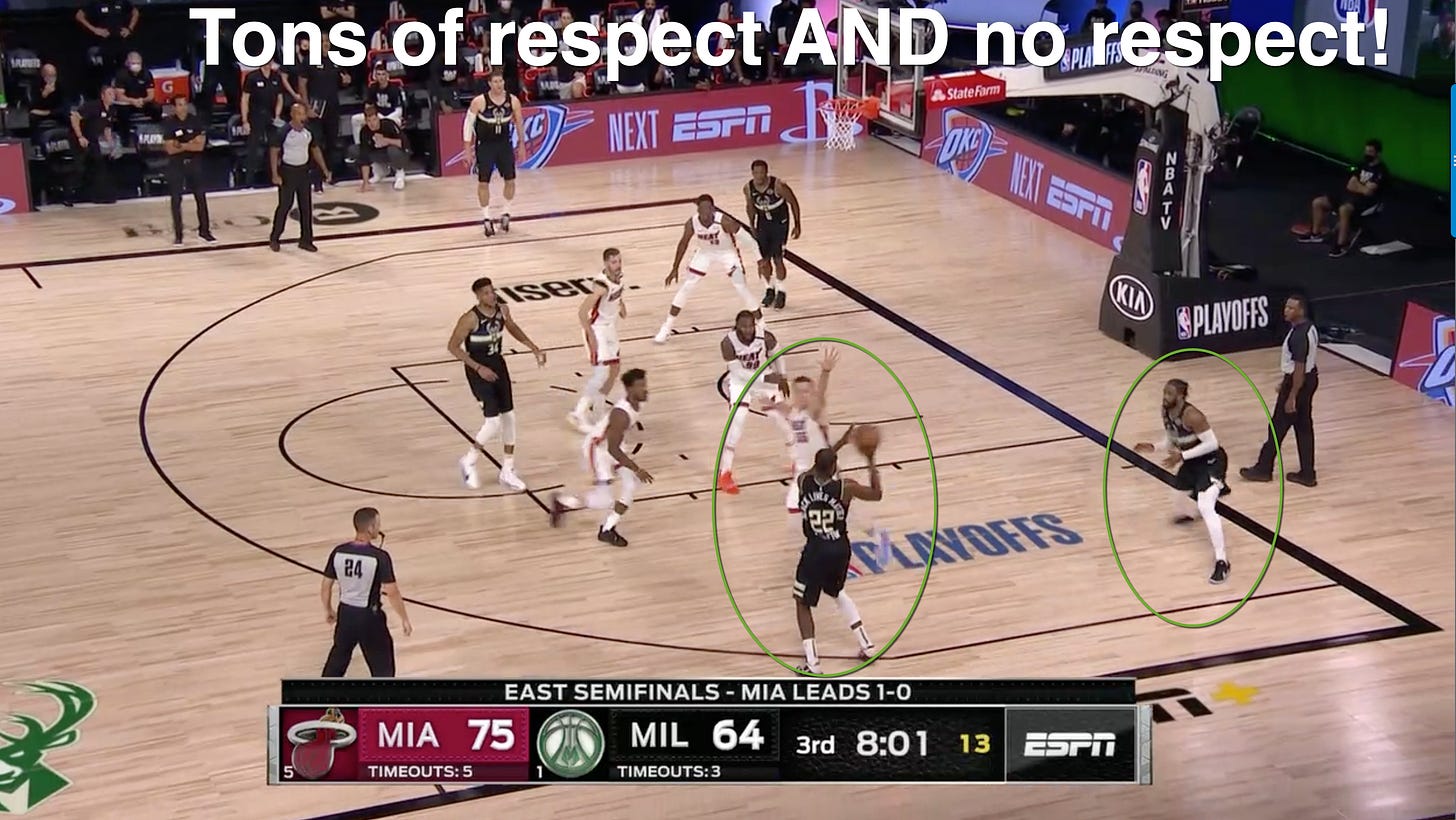 Their closeout speed does, of course, change depending on the shooter. Miami runs harder to the players they want driving (Wes Matthews, Pat Connaughton, Marvin Williams) and more controlled to those they want shooting (Eric Bledsoe, Donte DiVincenzo). But unlike Toronto, who uses a similar approach to create chaotic ball rotation sequences, Miami's closeouts are more controlled. They don't suck in as much to protect the paint, but they also don't fly out as wildly to the perimeter. If a Bucks player drives the closeout, the other four Heat players collectively show them a wall and stunt to the most obvious passing options. Rinse, repeat.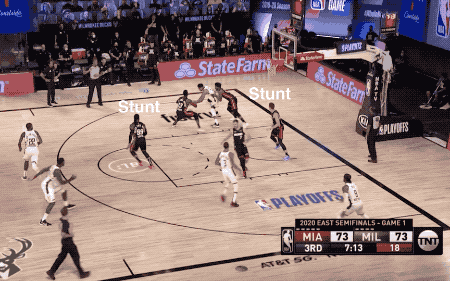 Stunting, then, is how Heat's five players help each other achieve their goal rather than a goal. Collectively, it looks like they are a whirling dervish of frantic activity. Individually, though, they aren't forced to do as much work as it seems. Each player's stunt and and recovery gives the next player's stunt and recovery a head start. Tally it all up, and everyone's stunting and recovering lessens the load on Giannis' primary defender. They can share the credit.
The symbiotic relationship also works in the opposite direction. Giannis' primary defenders make the stunters' lives easier through ball denial tactics that make Giannis start his move a step further away than he'd like. That gives the rest of Miami's defense a fraction of a second longer to position themselves to carry out their jobs. Jae Crowder has been especially good at this in the first two games, as ESPN's Tim Legler noted on SportsCenter. (Fast forward to the 6:03 mark if it doesn't do so automatically)
The end result is a virtuous cycle of defensive teamwork that has rekindled last year's fears about Milwaukee's stagnant half-court offense.
So how does Milwaukee break the cycle?
It'll be tough. Defenses like Miami's struggle against three types of players:
Anticipatory passers who can see through and even manipulate Miami's off-ball bluffing to their team's advantage.

Deadly off-the-dribble perimeter shooters (preferably guards who operate in the pick-and-roll) who can simply bypass the other four defenders with jumpers.

Decisive spot-up threats who can shoot quickly (and accurately) enough against closeouts, but also can drive through gaps and make plays off the bounce.
The Bucks don't have any of those on their roster. Antetokounmpo is great, but he's not a preternatural passer. Khris Middleton is the best approximation of the second, but he's not a guard. Malcolm Brogdon was the third one, but he plays for Indiana now — and not coincidentally was the Pacers' best player in their first-round loss to Miami.
(As an aside, this also explains why Boston is a tough matchup for Toronto, O.G. Anunoby's miracle game-winner aside. Boston's core is almost entirely made up of those three types of players).
But though the task is difficult, there are still avenues the Bucks can use to punish Miami's defense.
One is to defend better themselves, which'll create more transition opportunities. Miami has been remarkably committed to getting back and building a wall so Giannis can't just steamroll to the basket, but it's still a lot easier for Milwaukee to score off Miami misses than in half-court situations. Even if the Bucks can't (or don't) transform their base defense to account for Miami's unique offensive style, they must stop fouling jump shooters. Silly mistakes like these give the Heat free points and set up their half-court defense.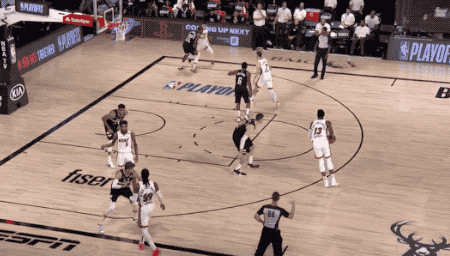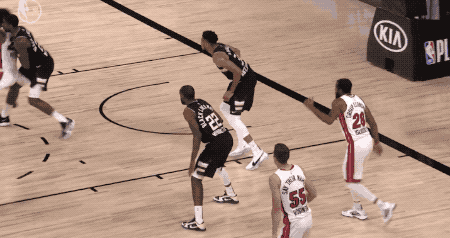 I'd also run more of the offense through Middleton and have Giannis act as more of a play finisher. The Heat have done well against the Middleton/Giannis pick-and-roll so far, but if anything, I'd use it more to get Middleton clean looks from beyond the three-point line rather than as a method to free Giannis. Remember: Middleton is an elite pull-up shooter at his best, and Miami's rotations don't matter if someone's draining pull-up threes.
What about Giannis, then? While I don't wanna sound like the stereotypical out-of-touch former player turned broadcaster, I do think Giannis should spend more time closer to the basket and less at the top of the key. Save the mad dashes for transition sequences. In half-court situations, the Bucks' goal — perhaps paradoxically — should be to limit the amount of space Miami can use to stunt at Giannis. Make it harder to load up on him, not easier.
That doesn't necessarily mean posting Giannis up on the block. Actually, I'd like to see Giannis catch the ball at the free-throw line extended more often. That'll remove one line of Miami's defense while maintaining all the passing outlets he gets when attacking from further away. More sets like this, for example.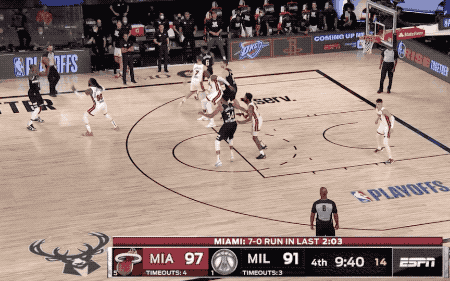 That'll require Giannis to shoot fewer threes and more mid-range jumpers, but that's a trade-off worth accepting. His turnaround jumper isn't great, but it's a lot better than it was last season. This series is why he put in so much time improving that shot. It's time to trust that work.
The Bucks' task is hard, but not impossible. These matchup challenges aren't exactly a surprise, or at least they shouldn't have been to Milwaukee's players and coaches. The Bucks weren't that far off from overcoming them to win either of the first two games. Fixing their unforced errors, both on the court and with the playing rotation, may have been enough to change those outcomes.
But they're down 2-0 now, and thus lack the margin for error to rely only on being a better version of themselves. Their best hope is to break the cycle that allows Miami's five defenders to work together to become something beyond the sum of their individual parts. In effect, the Bucks must make it easier for you to tell which individual Heat player messed up.
Otherwise, they will allow Jimmy Butler and the Heat to — pardon the pun — stunt on their title dreams.