Low blows
How Jimmy Butler overpowers bigger opponents.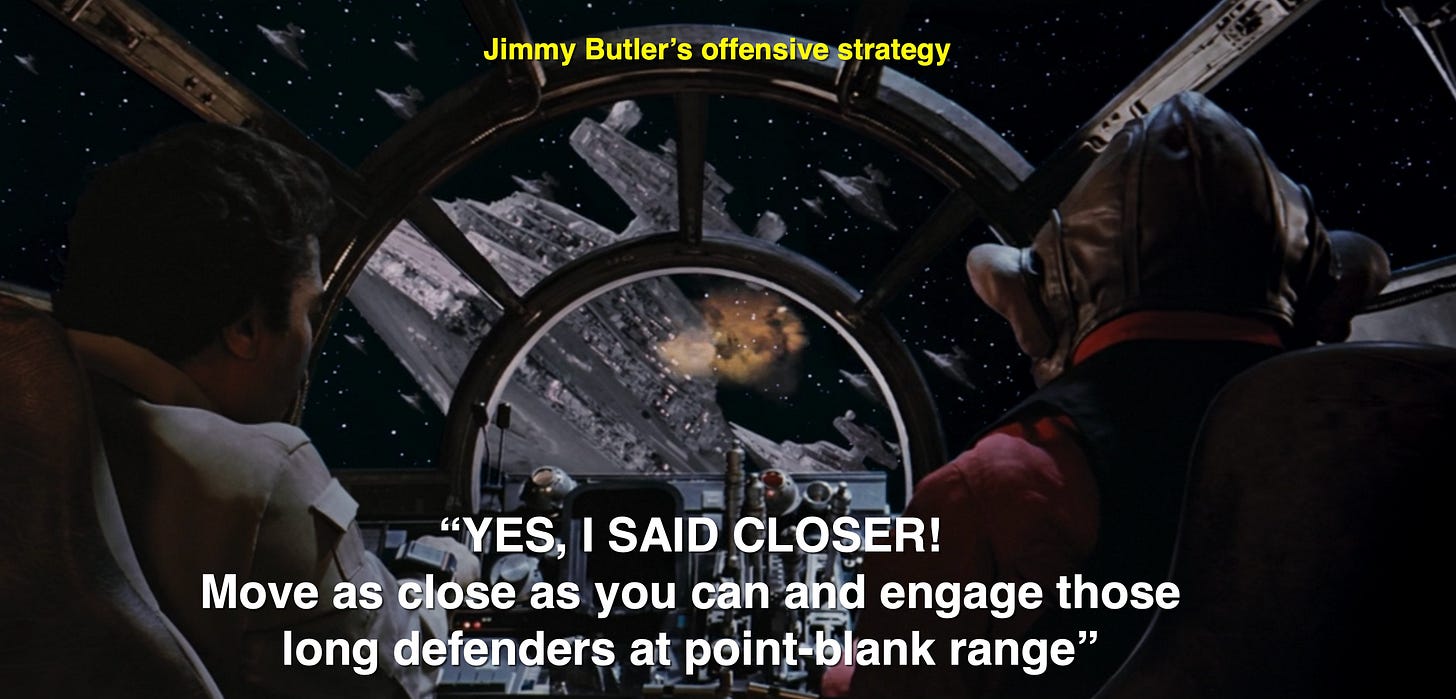 Hello, friends. I hope you've been enjoying these breakdowns! This one'll be free, but I plan to save at least one in reserve for paid subscribers only. If you want to become one, here's how.
Also a reminder that I'm still looking for full-time employment and freelance opportunities! If you have any leads, hit me up at mikeprada1@gmail.com. And check out the Limited Upside podcast, which records at least once a week as part of the Blue Wire Podcast Network.
During Game 3's ABC broadcast, Mike Breen relayed an interesting Jimmy Butler compliment from Heat coach Erik Spoelstra. "He's the anti analytics guy," Spo supposedly told the broadcasters. "You can't put a number on how he impacts winning."
That's a strange thing to say about a guy who has ranked among the league leaders in various adjusted plus/minus metrics, all of which specifically attempt to measure one's impact on the game's score. Last I checked, that's how teams win games. This isn't even close to Jimmy's best season from that perspective. Go look at his plus/minus stats on that bizarre 2016-17 Bulls team. (I'd keep going, but NBC Sports' Tom Haberstroh summed the point up better than I could).
If anything, Spoelstra is making the complete opposite point. He seems to be saying, correctly, that Butler impacts winning in ways that are hard to see. It's as if Butler … fails the eye test.
Now that I can get behind.
There definitely is something odd about Butler's game. Friend of the newsletter Michael Pina called Butler an "anti-star," which is a funny and fitting description. He's too short to shoot over long defenders, yet too ground-bound to explode above rim protectors. He's a small forward while also kinda being a point guard with shooting guard size and a bulldozing power forward's mentality. He has the skill set and impact of the modern do-everything superstar wing, but it only seems like he's controlling the game in short spurts. He seems invisible or omnipotent with little in between, but is actually manipulating play behind the scenes the whole time.
That makes him a contradiction that is not for everyone, to use his words. He's referring to his blunt leadership style, which contributed to three ugly breakups before finding its soul mate in #HeatCulture. But that statement just as easily applies to Butler's on-court style, a strange mix of domineering and collaborative play that works best with this idiosyncratic Heat roster and worst alongside more traditional clusters of co-stars. He's adaptable to any context, but best in just a few.
That was my takeaway watching his legendary Game 3 performance against the Lakers on Sunday night. Butler is a plus player in any situation, but it took the odd circumstance of injuries to his two other offensive initiators and floor spacing around him to activate his apex level. We're all richer NBA fans for witnessing it, though I'm sure Lakers partisans weren't thrilled.
In a funny way, Butler played how we often imagine an unencumbered Ben Simmons might. He was a point-power forward hybrid, surrounded by shooting and cutting that masked his perimeter shooting weaknesses while he masked his teammates' shot creation shortcomings. I say funny, of course, because they were once teammates until Butler's needs encroached on Simmons (and the 76ers') long-term vision. The rest is history.
Let's dive into Game 3 to better explain this analogy and hopefully put some actual substance behind the fuzzy cliches often used to describe Butler's game.
Get lowwwwwwwwwwwwwwwwwwww
The first key to understanding Butler is identifying his best athletic quality. That's trickier than it looks. Remember, Butler is not a leaper or a speed demon. He's tall for an average human being, but not for a high-usage NBA wing. He has relatively long arms, but other peers have longer ones.
But there is one thing Butler has that others don't: unparalleled lower body strength and balance. Like a great running back grinding between the tackles, Butler burrows underneath and through his defenders, using direct angles they can't take because they stand too upright. The higher your stance, the lower Butler gets, because that way it's easier for him to wedge through. Markieff Morris looks like a giant trying to catch a fly here.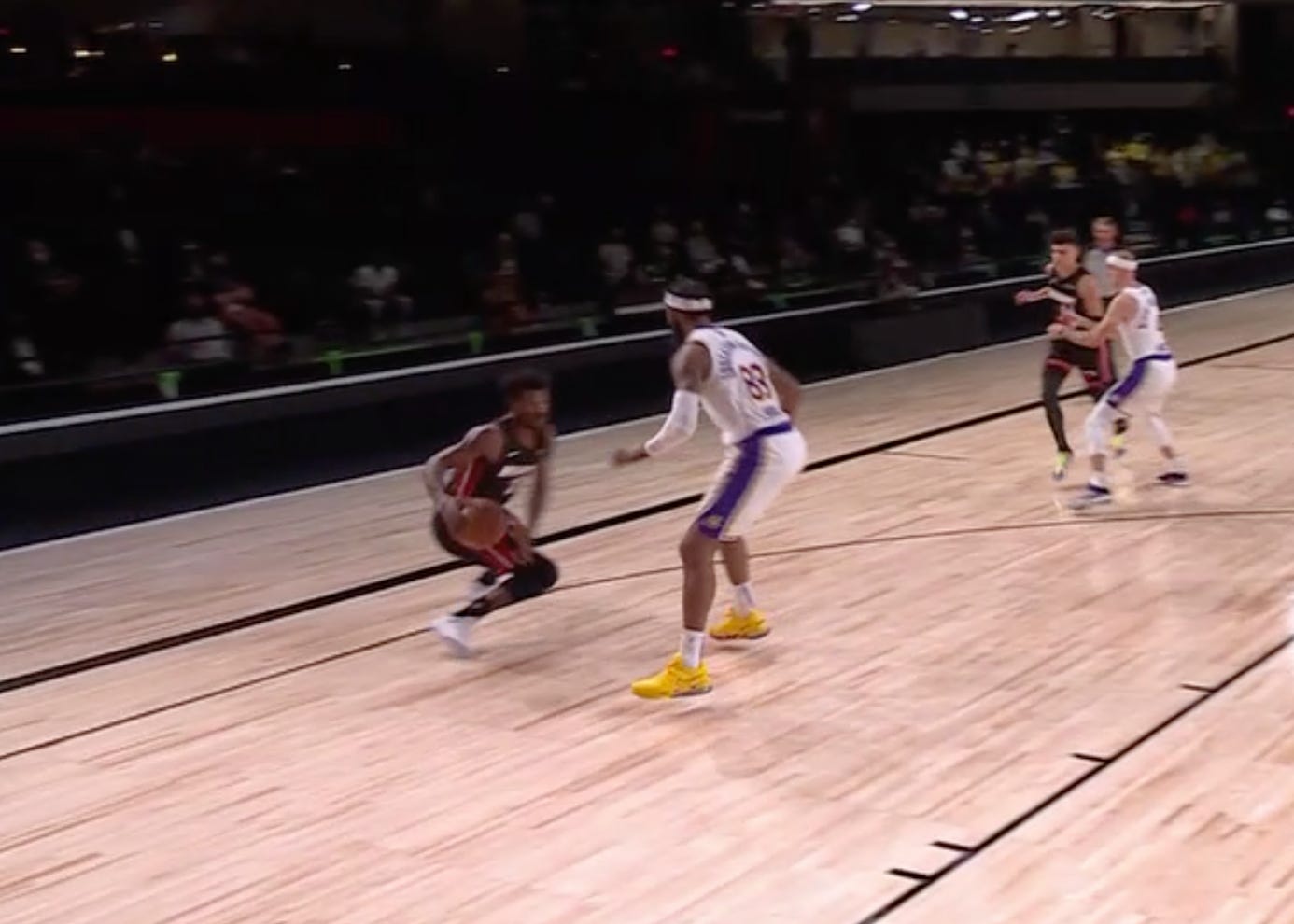 It's better to be tall than short once a player is into a shooting, passing, or finishing motion. But until then, it's better to be lower to the ground because it makes their movement patterns more explosive and efficient. Butler may not be big enough to shoot or finish over Morris, but he can take a much more direct path to his desired spot while using fewer steps and more easily varying his driving speed. What good is a size or length advantage on defense if the offensive player is constantly in their chest?
Butler's lower-body strength manifests itself in two places. For one, his natural resting position is much lower to the ground than his opponents, which allows him to make short-burst movements in traffic while staying on balance. It's like there's an invisible chair holding his body in place at all times.
That quality is most evident on defense, where Butler never seems to comes out of his stance. Ball screens or other moves rarely dislodge him, no matter the angle.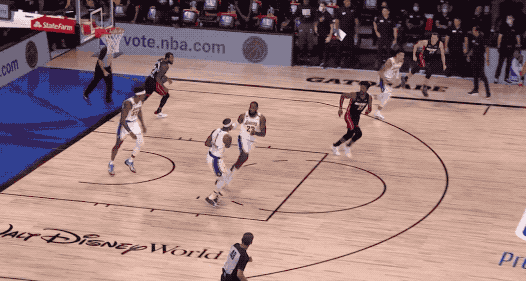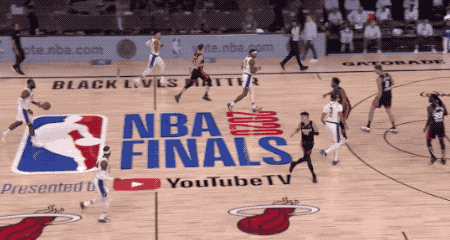 Off the ball, Butler covers much more functional ground than he should without flying out of position. That made him an ideal fit atop Miami's zone against the Bucks and Celtics, both of whom create offense by driving through perimeter creases. The Heat used Butler's anticipatory skills to shrink those gaps as much as possible, leading to deflections and a ton of recycled possession outside the three-point line.
The Lakers posed an entirely different challenge because they play inside-out rather than outside-in. They ran all over Miami in the first two games, using Anthony Davis and, to a lesser extent, LeBron James as their cudgels.
But Butler spearheaded a defensive revival in Game 3 by wedging him down into their space. Watch him instruct Tyler Herro to pick up James in transition so he could roam off his own man to plug the obvious driving gap.
And watch him wedge into Davis' space in the post without actually swiping at the ball.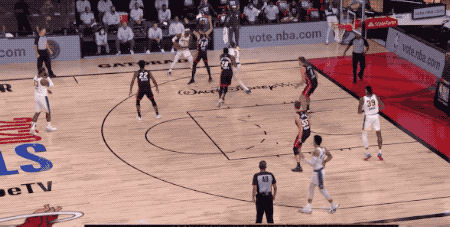 Butler's lower body strength makes all those quick side-to-side movements and recoveries possible. He doesn't need to waste time getting into a low stance to cover that ground because he's already in one by default.
The other way Butler's lower-body strength plays out on the court is when he first makes contact with an opponent. I've written this before in other contexts, but the most important moment in any one-on-one defensive sequence is when the offensive and defensive player's bodies collide. As long as the defender gets the angle on the offensive player and keeps his hands down, they can use their chest and hips as tools to wall off a driver's progress. Maybe they stop them altogether, or maybe they force them to take a wider angle than they'd like. Either way, body positioning is key. The best defenders have remarkable hip flexibility that allows them to stay low and strong at that first point of contact.
But Butler has a knack for making himself lower and stronger at this critical juncture of the drive. That allows him to decelerate to avoid charges and twist his way through the lane at whatever angle is necessary to shed the defender.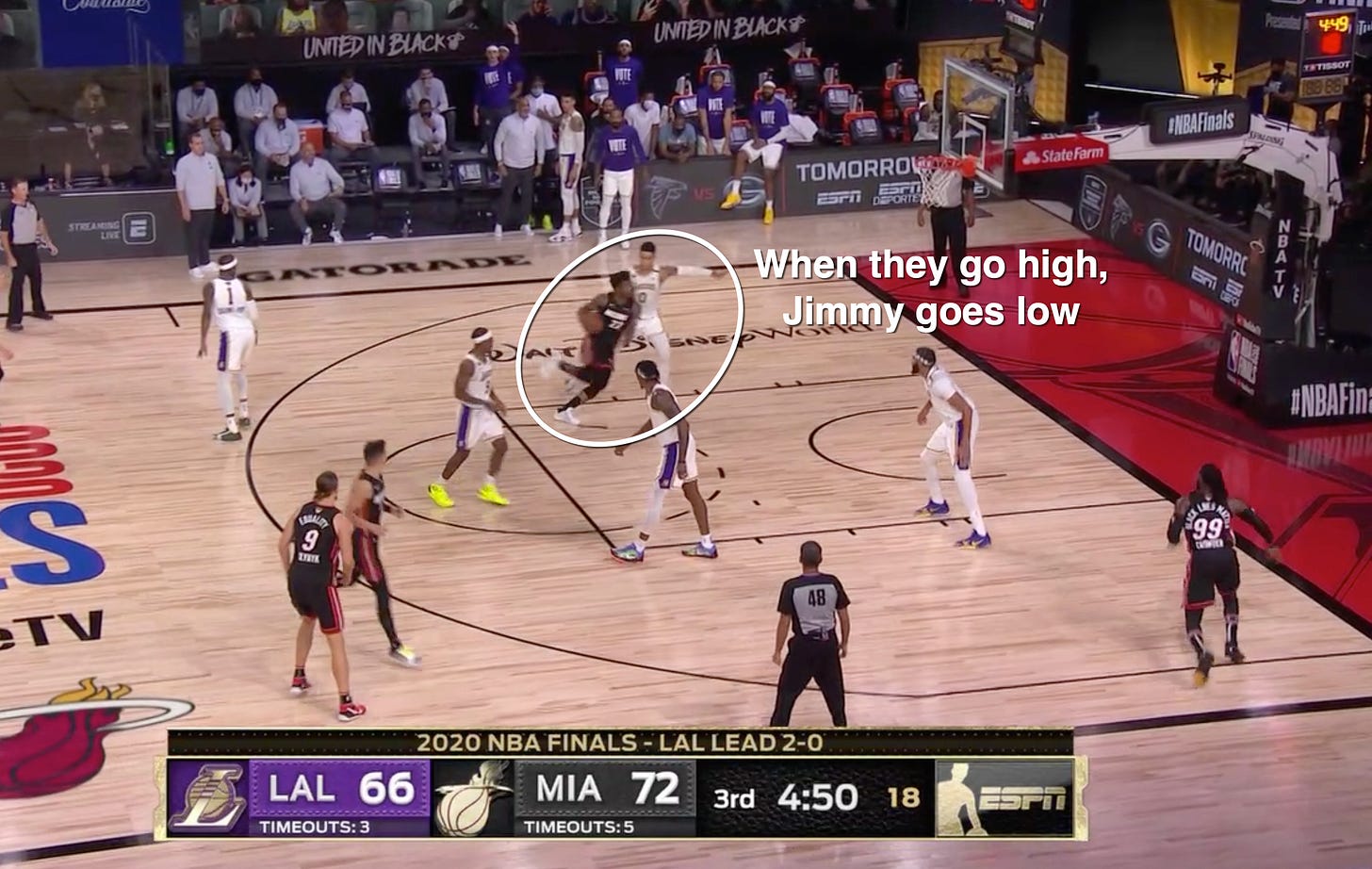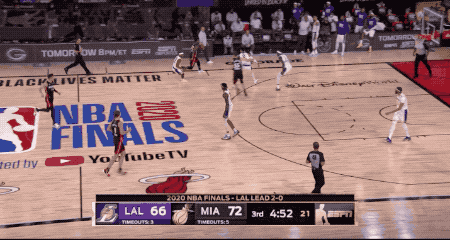 He can drive into and through taller players' chest to prevent them from using their long arms to contest his shot.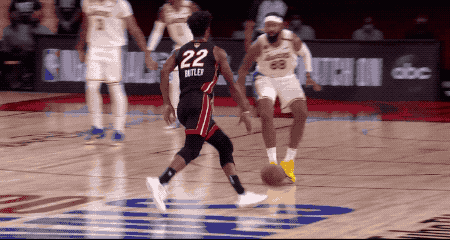 Or he can plant his foot deep into smaller players and power through or around them.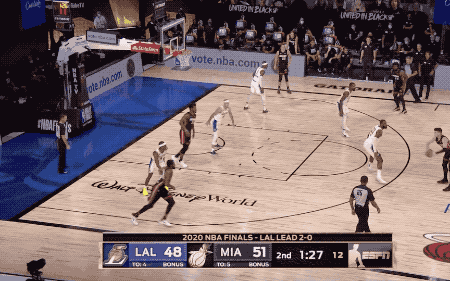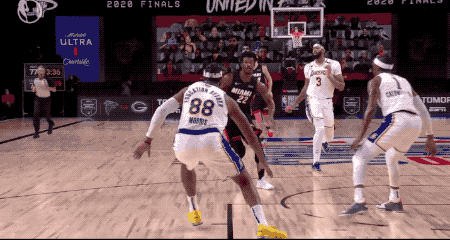 Both plays worked because Butler won the battle at basketball's equivalent of the line of scrimmage. The less space between Butler and the defender, the better. Unlike many stars who function best when given room to change speeds and maneuver around their men, Butler would much prefer to make contact first and then pivot off it. His offensive patience is actually his attempt to burrow into his defender and make them feel like they have to stand him up with the full weight of their chests. Once that happens, Butler's lower-body strength, his most impressive athletic skill, takes over.
It's also why the best way to defend him may be to not yield a line of scrimmage at all. More on that in a bit. First, let's talk about why Butler's style works especially well in Miami's setup.
The mistimed first step
The Heat's perimeter-oriented offense may seem like an odd match for Butler, but it's actually become the perfect ecosystem for his between-the-tackles approach. Like Russell Westbrook after Houston ditched Clint Capela, Butler becomes more dangerous when playing with four shooters. It's harder to send help to the one-on-one matchups they so often win.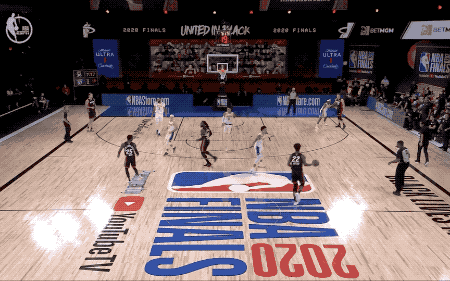 But there's one crucial difference between the two systems and stars. Westbrook is more of a full-speed attacker, while Butler, as we noted before, wants less space between him and the defender to take advantage of his lower-body physicality. To use a skiing analogy: Russ loves the downhill, while Butler prefers the slalom.
So how do the Heat create those short-burst situations while maintaining their overall spacing integrity? They move, screen, and cut a lot, but outside the three-point line instead of near the basket. In those moments, they give Butler a point of attack he can then use to make his first move before his opponents get down in their stances. Instead of forcing Butler to operate in the trenches, the Heat bring the trenches to him.
Hubie Brown once said that the purpose of setting screens is to make the defense think. I'd amend that statement slightly when it comes to the Heat and say the purpose of their screening is to make the defense reveal some context clue about their thought process. No team, not even the Lakers, can possibly defend each sequence the exact same way automatically. That means there's a split second between the time the two (or three, or four, or five) Lakers make their coverage decision and execute it.
And it's in those split seconds where Butler creates the necessary advantages that pay off later in his moves. He attacks at the precise millisecond his opponents get distracted absorbing new information. It's so quick that it can be hard to spot, but it's happening.
Take this drive and score on LeBron. To the naked eye, Butler hit a tough shot using a quick one-on-one move in a straight isolation play.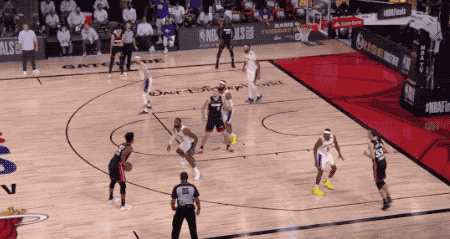 Now, let's ENHANCE.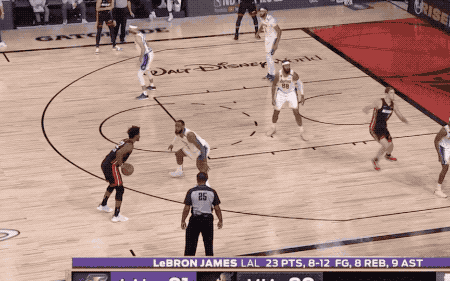 You see that verrrryyyy slight head turn by LeBron to look at Robinson coming off an Olynyk screen? It takes slowing the play down to notice it, and it still might elude you even then. Here's the frame that captures it.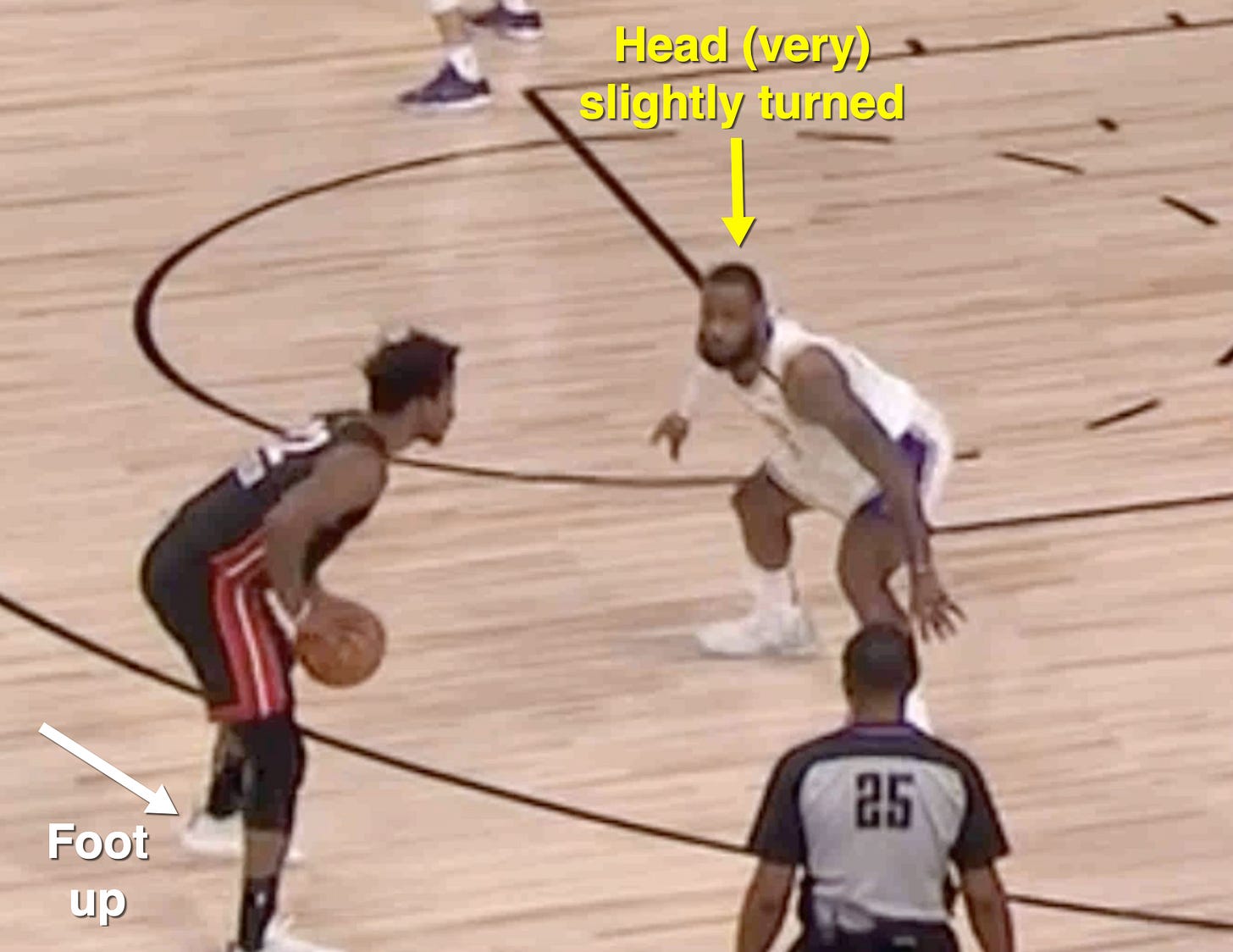 It's at that millisecond that Butler took his first step forward, and good thing he did. That precise timing enabled Butler to get his shoulders inside of LeBron and negate any attempt to contest the shot.
In Game 3, Butler constantly created head starts for himself as the Lakers thought through their coverages. He did it with drives, but he also did it with passes, screens, and timely rolls to the basket. He stayed low, read their body cues, and reacted to them before the Lakers knew what hit them.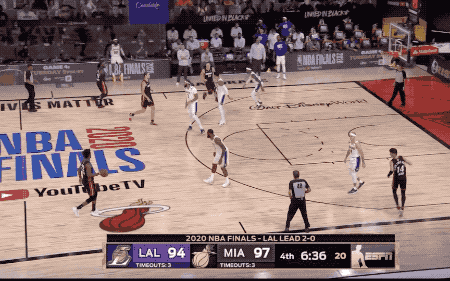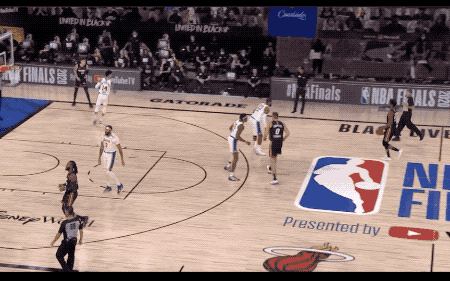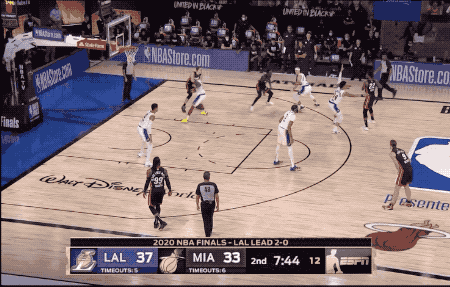 Those head starts gained more power because of Miami's shooting, which sucked L.A.'s help out of the paint and thereby lessened the lateral space the Lakers so easily closed in Games 1 and 2. Each breakdown at the point of attack was costly because the Lakers couldn't use their off-ball defenders' length to buy time to recover from the head start Butler kept getting. It's as if each possession was a one-on-one game to 11 and Butler got a four-point head start.
Butler needs that early edge in his individual matchups to pile up points. It's what allows him to use to the most analytic-friendly and least aesthetically pleasing element of his offensive game: his foul-drawing.
Jumping out, not up
When studying creative geniuses in specialized fields, it's more useful to dissect their mistakes instead of their successes. That's why I think the Game 3 play that best explains Jimmy Butler's most notable offensive skill is the one he badly screwed up.
With about seven minutes to go in the second quarter, the Heat positioned three players to Butler's left and ran Duncan Robinson up from the right corner to the ball. Instead of screening, Robinson sprinted behind Morris and slipped to the top of the key. Using his rapid line-of-scrimmage processing skills and low center of gravity, Butler correctly deduced that Morris would display some react to Robinson's movement. That movement, however slight, would give him the opening to get a head start on his drive.
Things worked out even better than Butler could have expected. Not only did Morris lean toward Robinson, but Kentavious Caldwell-Pope didn't stop to switch. The miscommunication gifted Butler with a wide-open path to the basket.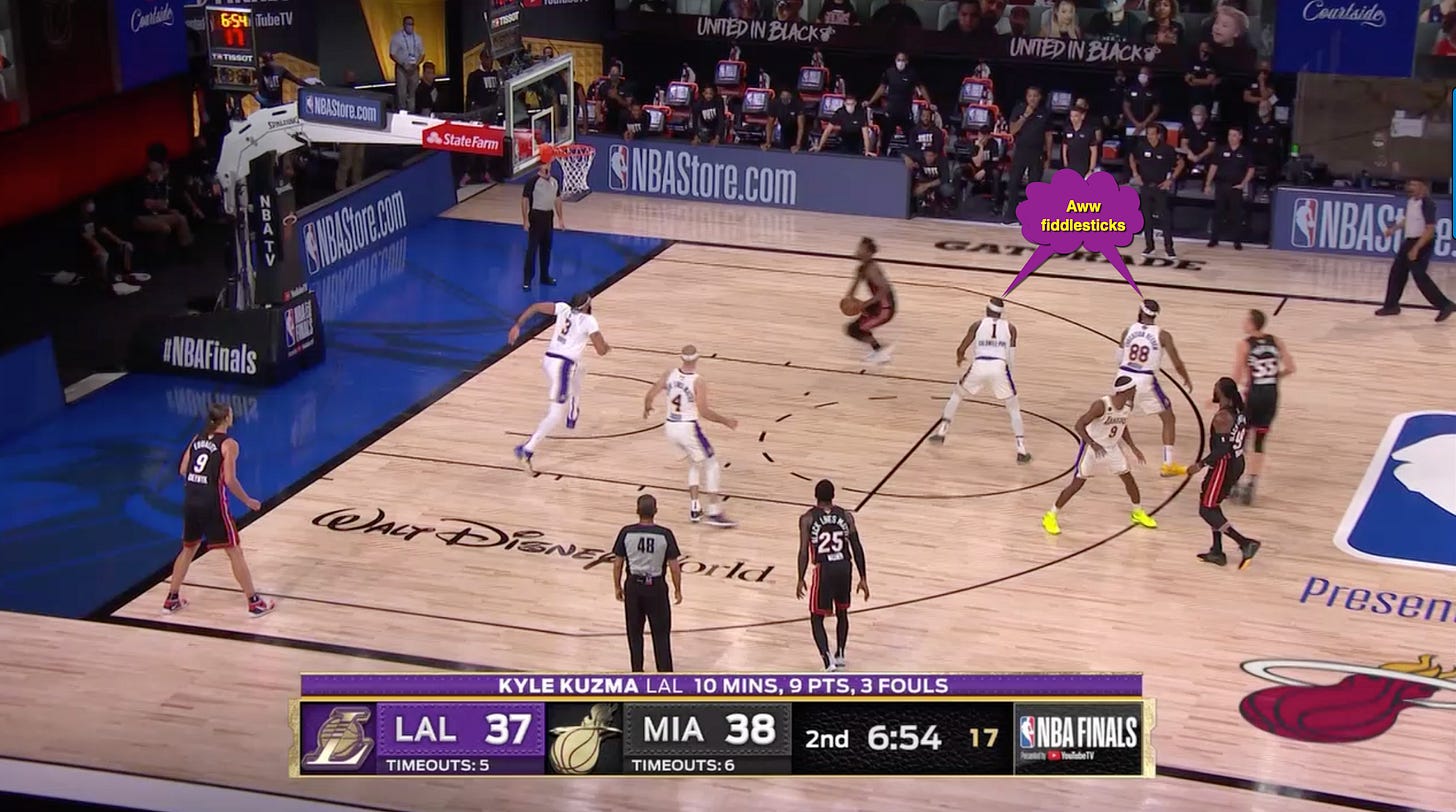 So he … passed?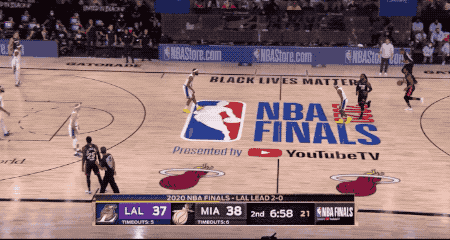 The announcers were incredulous. "Jimmy Butler's too good [to pass]," said Jeff Van Gundy. Mark Jackson wondered how Butler could give up the chance to draw Davis' fourth foul. It was bizarre.
So why'd Butler pass? And why does he so often seem to pass up open shots at the basket?
Turns out that reconstructing the mistake from his point of view also gives us a crucial clue to understanding why Butler draw so many fouls. Both show a recognition that his bread is Butt(l)ered by jumping out, not up.
Butler knows his lower-body strength better than anyone. He must realize that he has to play even smaller than his 6'7 frame to get the most out of his best athletic skill. He knows it's too hard to get so low to maximize horizontal movement efficiency and then suddenly rocket high into the air to finish over length. No, he must finish the same way he attacks: by jumping through the chests of taller defenders so they stagger back. The only way he wins a leaping contest is if his opponent can't jump his highest.
That's why Butler leaps out rather than up when finishing around the hoop. He needs that body contact. It's the only way to activate his superhuman lower-body strength that so often makes well-meaning defenders drop their arms and foul him.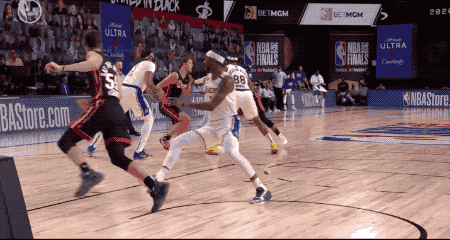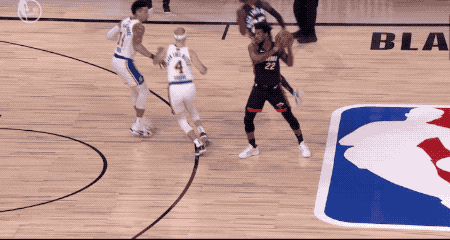 Let's circle back to that seemingly inexplicable pass at the rim. What's the one thing Butler didn't have in this play that he did in the previous three? Body contact with the man contesting his shot at the rim. You don't even see Davis in the replay frame until the very end of the play.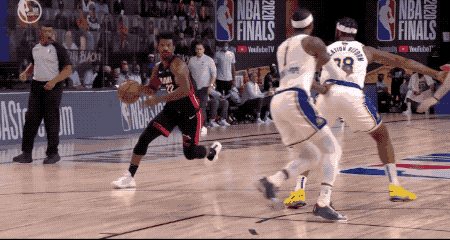 That's not a problem for a taller player or quicker leaper, but it is a problem for Jimmy. Because AD is so far away, Butler has no way of using his body to leap into AD's chest and lessen the height and length of his contest. It may seem counterintuitive, but Butler would much prefer that Davis was closer to him. Without that body contact, Butler envisioned a jumping contest with Anthony Davis, one he cannot win.
So rather than get his shot swatted out of the bubble, Butler tried to draw Davis into the air and pass around him. The mistake he made is forgetting that Davis had three fouls and was thus reluctant to put himself in position to draw a fourth. He failed to see that Davis was essentially pump-faking a block attempt with no intention of actually challenging the layup or dunk.
But Butler otherwise displayed a thought process consistent with his foul-drawing prowess. He was looking for body contact that he's uniquely able to finish through. Without it, he won't win many leaping contests at his size.
That's why I think the Lakers would be wise to deploy Davis as the primary defender on Butler in key situations going forward. I understand not wanting AD on Jimmy full time, but I do think AD has the requisite game to play off Jimmy, back his feet up, and use his length to prevent Butler from setting a tight line of scrimmage.
Foul trouble made the AD-Butler matchup impossible in Game 3, but I did notice a couple possessions where Kyle Kuzma used a similar approach to effectively yield space to Butler and not letting him throw the first punch.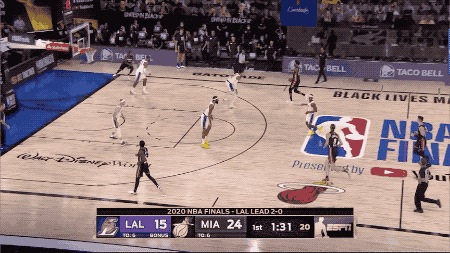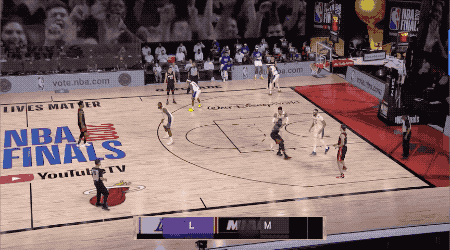 Contrast that to KCP, who too often made the mistake of standing Butler up. That's how he got burned by Butler's tight spin move.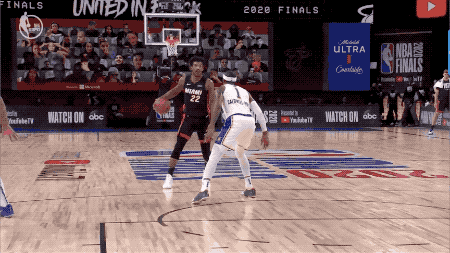 As this series continues, the Lakers simply can't let Butler's strength negate their length. That's the guiding principle that should dictate their defensive decisions going forward.
And while that's an odd approach to take when defending most shooting guards, it's exactly what's necessary against a great, weird wing player like Butler who produces like a superstar despite not playing like one.