Discover more from Prada's Pictures
NBA and WNBA Xs and Os for any fan to understand.
Over 2,000 subscribers
Basketball diaries: The walking mismatch
Breanna Stewart is healthy, and thus the dominant 2018 WNBA champs are whole. But will we ever see that team and player again?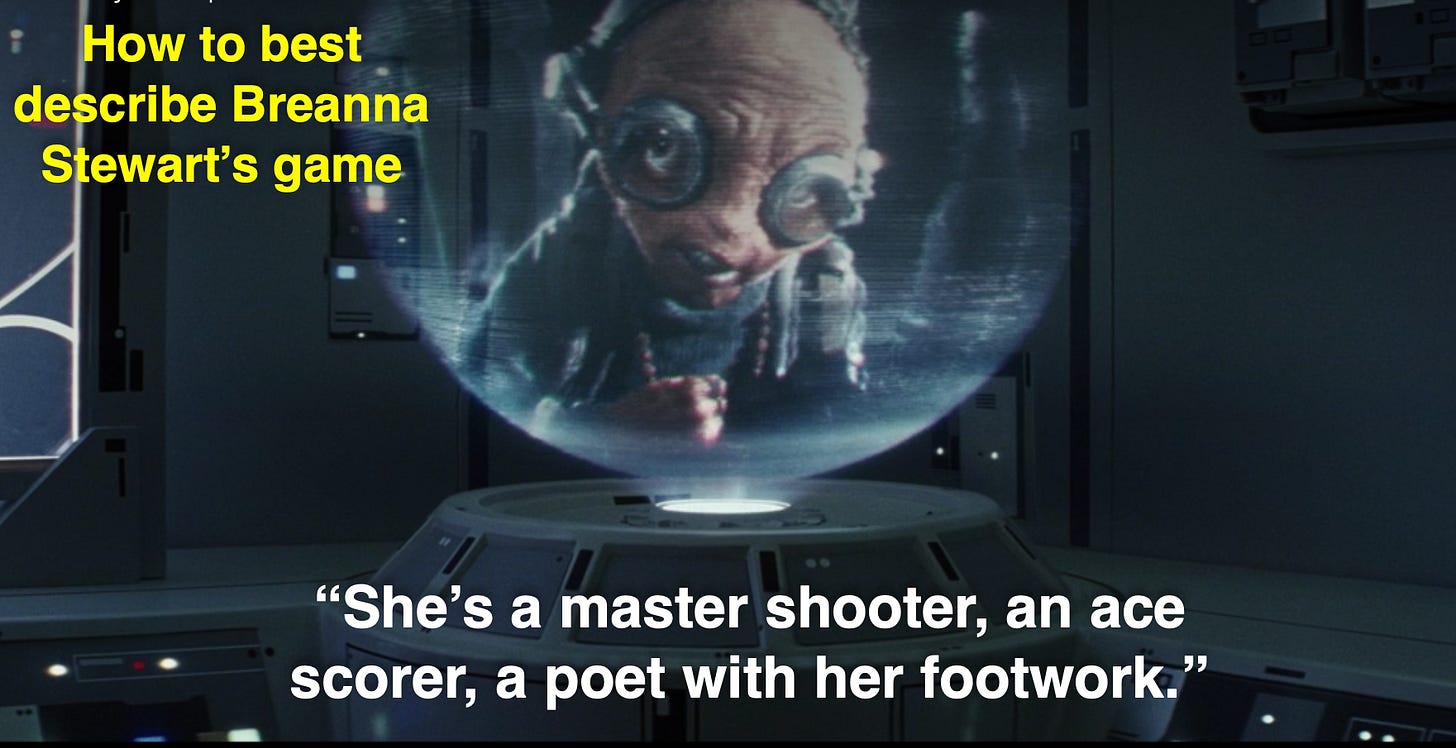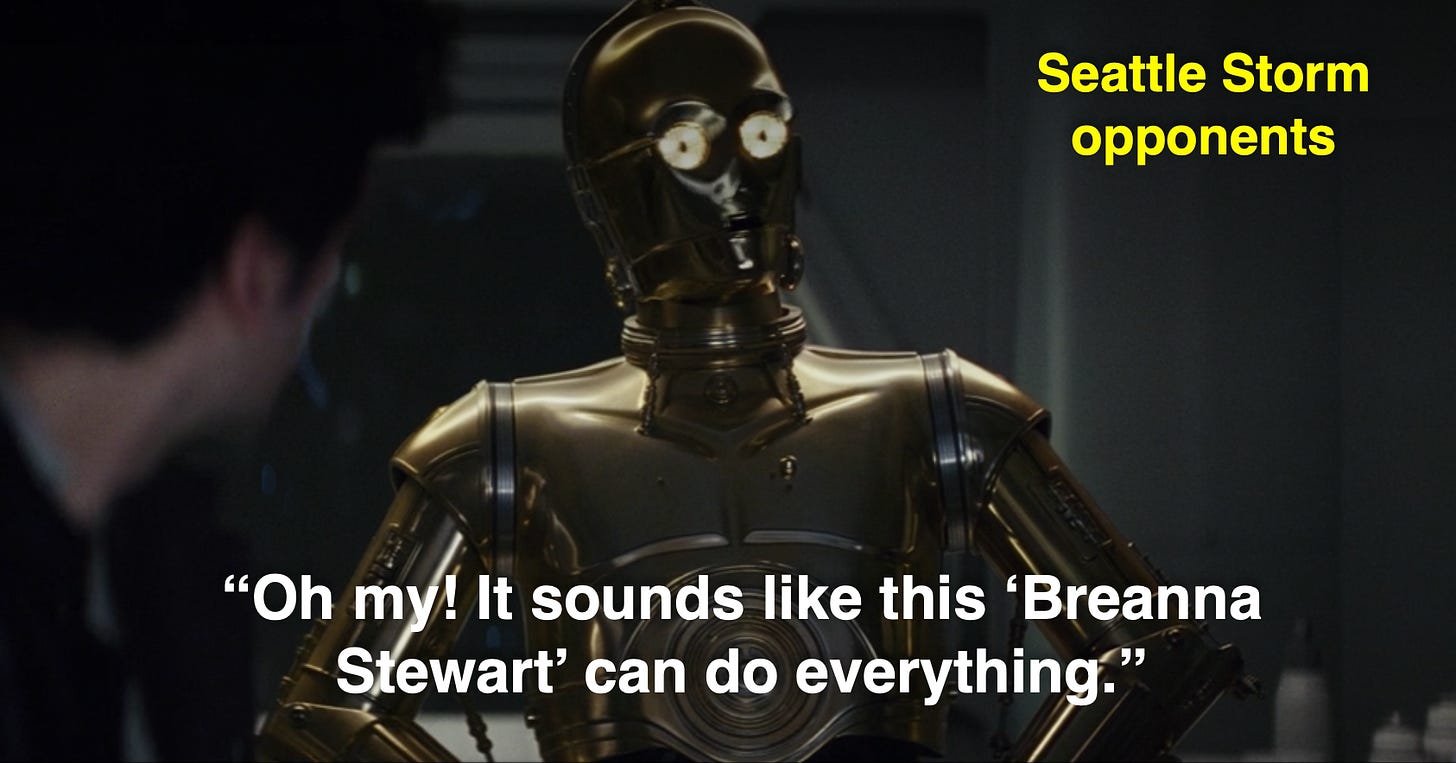 We're gonna pretend the line that immediately follows this never happened.
The 2020 WNBA season begins on July 24, six days before the NBA's is scheduled to tip off. At least that's the rough plan.
Take all the real-life issues complicating the NBA's return — COVID-19's spread in Florida, systemic racism, a majority Black league owned by mostly White owners, player amenities in the bubble, and lasting physical effects from going so long without playing — amp them up exponentially, and you get the WNBA's current situation. The living conditions in the "wubble" are actually terrible, many prominent players have already dropped out, and there's that whole mess with Trump-supporting senator and part-Atlanta Dream owner Kelly Loeffler. (This goes without saying, but Lindsay Gibbs is right about what must be done).
If it's at all possible to get past the above and focus on the court, one mouth-watering storyline stands out. Breanna Stewart is healthy again, and so too is the core of one of the most thrilling teams in league history.
The 2018 Seattle Storm were loaded and revolutionary. Their starting lineup — Sue Bird, Jewell Loyd, Alysha Clark, Stewart, and Natasha Howard — featured five interchangeable players blending their talents to create a whole that was even more than the sum of its parts. Their collective speed, shooting, creativity, and unselfishness molded the best offense in WNBA history. Stopping them was a fool's errand: if you cut off one part of the operation, they'd just beat you a thousand other ways. They were modern basketball nirvana.
That's also a good way to describe Stewart, the team's star. Fuse Kevin Durant's scoring balance, Dirk Nowitzki's pick-and-pop game, and Hakeem Olajuwon's post footwork together, and you get Stewart. She can score at all three levels (post, mid-range, three), play on or off the ball, and shift easily from dangerous decoy primary scorer at a moment's notice.
At least she could in 2018 before tearing her Achilles playing for her Russian pro team during the WNBA's "offseason." Will Stewart ever be the same player she once was? We can only hope, but it's reasonable to fear that Stewart's all-around brilliance requires delicate footwork that may no longer be possible without healthy Achilles tendons.
I hope that's not true, but since that grim possibility exists, I'm devoting this game diary to a moment when Stewart and the Storm were at their peak. This is Game 2 of the Storm's 2018 Conference Finals series against the Phoenix Mercury, a wild affair in which Seattle dominated for 35 minutes, fell apart in the final five, then regained control in overtime.
This game showcased Stewart's all-around impact. She scored 27 points, but also facilitated many others with her mere presence. Plus, it speaks to the Mercury's resilience that they nearly stole the game anyway.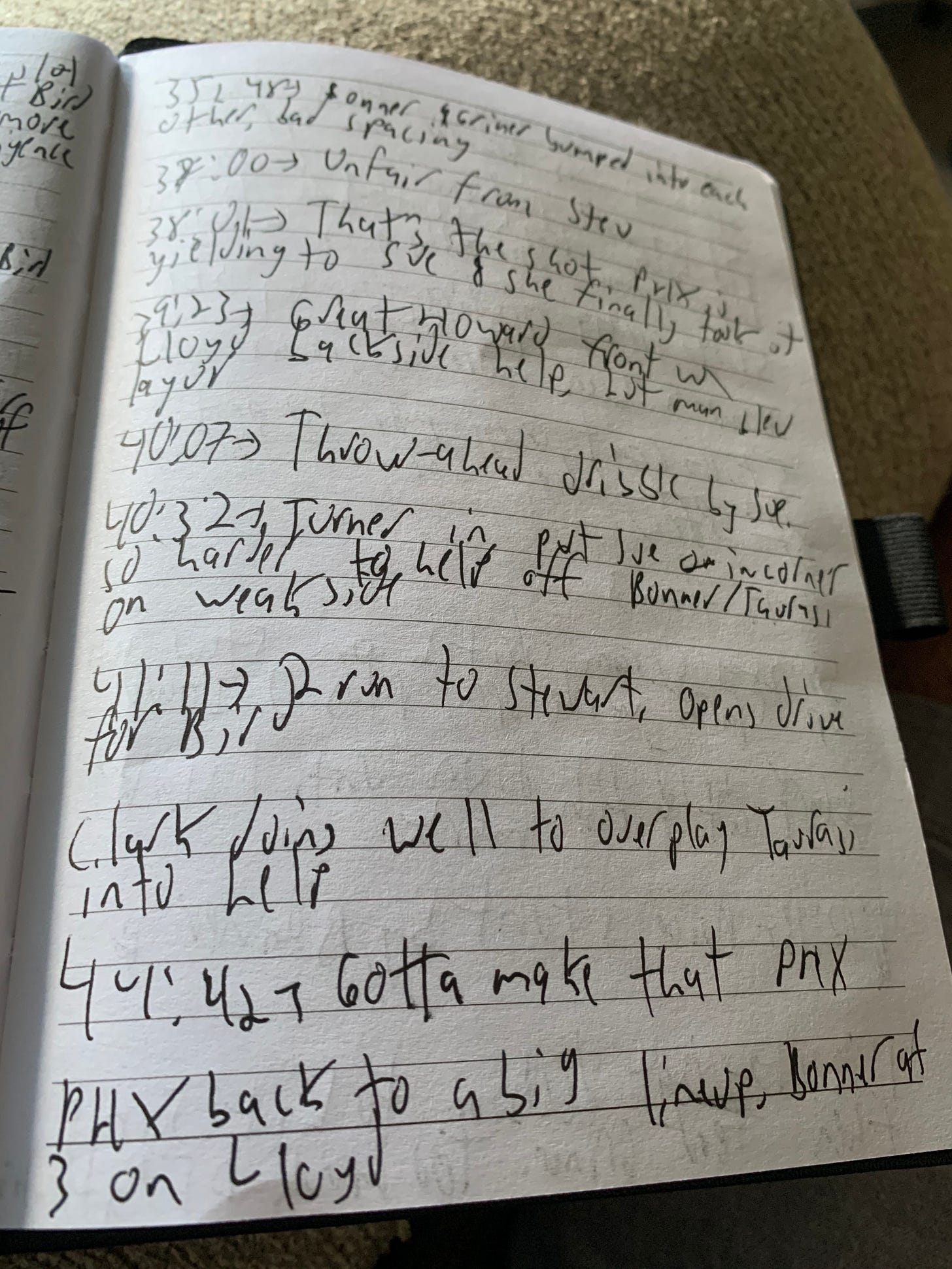 (The whole series was a spectacular contrast of styles that built up to an exhilarating Game 5. If you still think the WNBA is bad basketball for some reason, watch this series and get back to me. All five games are out there on YouTube).
Seattle is up 1-0 in the series after an entertaining Game 1 victory. The fabulous five start for the Storm. Phoenix counters with its big 3 of Diana Taurasi, Brittney Griner, and DeWanna Bonner, along with defensive ace Briann January and shooter Stephanie Talbot.
Here's the full game. Timestamps refer to spots in YouTube video, not the game itself.
FIRST QUARTER
2:05 — Phoenix makes its first big adjustment, switching January onto Loyd rather than Bird. Though Bird is a bigger name, Loyd is a key barometer to Seattle's offense. She too easily got into the paint in Game 1, and Phoenix doesn't want that to happen again.
Stopping Loyd means preventing her from getting to the middle of the floor on curls and/or dribble handoffs. That's not easy because the Storm use their offensive fluidity to tilt the defense one way and then give Loyd a running start. But it's clear early on that January is up to the task.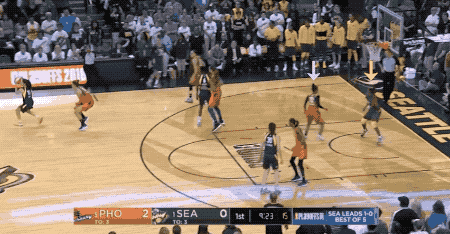 2:38 — What a luxury it is to have a power forward like Stewart that can run such a beautiful pick-and-roll in transition.
3:53 — More incredible defense from January to stop a Storm play designed to get Loyd middle off a dribble handoff.
This intricate set is challenging to defend. You have Bird sprinting off a double drag screen … which is really a decoy for Howard to set a flare screen for Stewart … which is really a decoy so Stewart can hit Loyd in stride looping from the corner. But January gets herself so low to the ground that Stewart is unable to screen her off, which blows the whole play up.
No points for Loyd, a difficult shot for Stewart, and a bunch of energy wasted by Bird and Howard. All because of January.
6:07 — The Storm's lead assistant coach and defensive coordinator is a man named Gary Kloppenburg. (He'll be the team's interim head coach this season after Dan Hughes opted out of the wubble due to underlying health conditions). That last name should sound familiar to regular readers. Gary is the son of Bob Kloppenburg, who created the famed SOS defense of the 90s Sonics. The Storm don't run exactly the same system, but under Gary, they have installed many of its core ideas.
That comes in handy against Griner, the kind of low-post star SOS was designed to contain. On this sequence, Loyd is already double-teaming Griner before she even gets the ball, which theoretically means someone is open. But the Storm coordinate a simultaneous switch where Clark takes January and Loyd travels the shorter distance to Taurasi.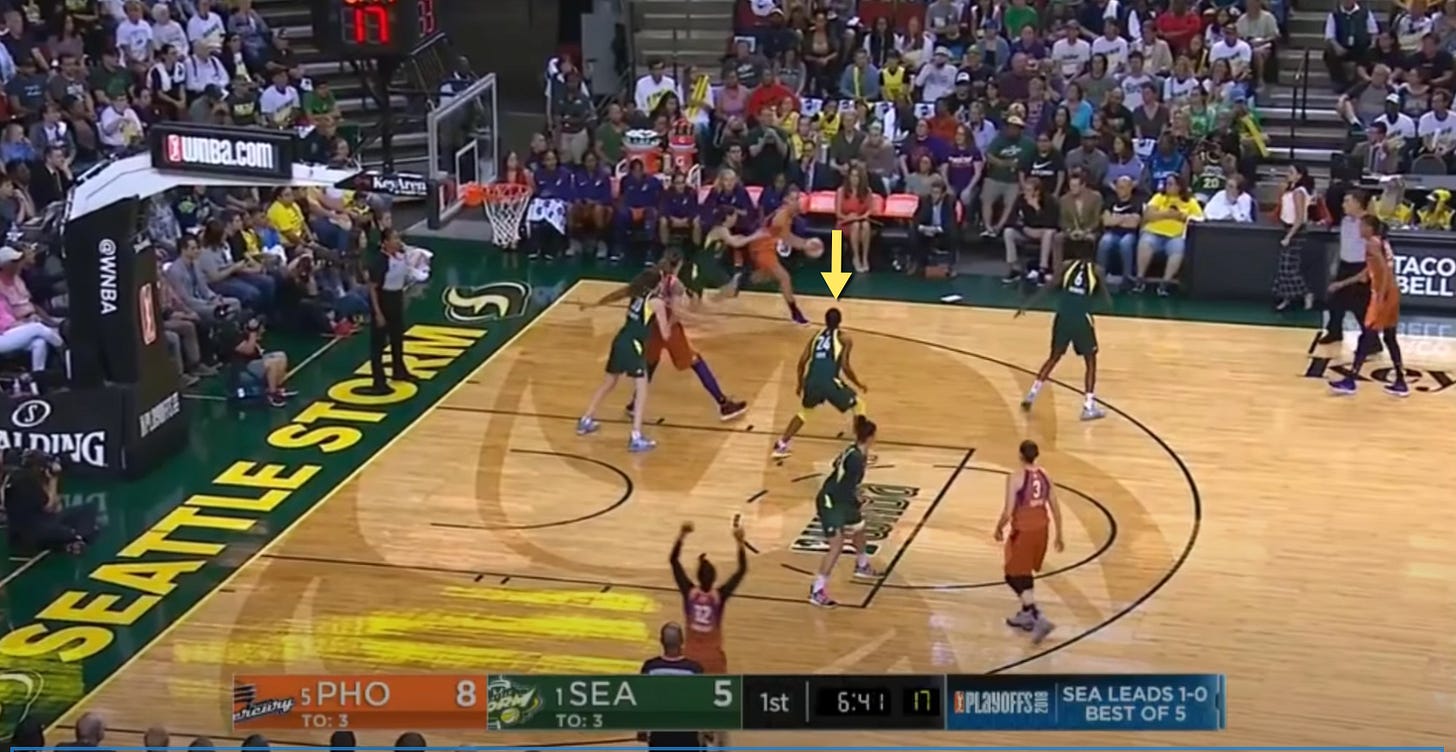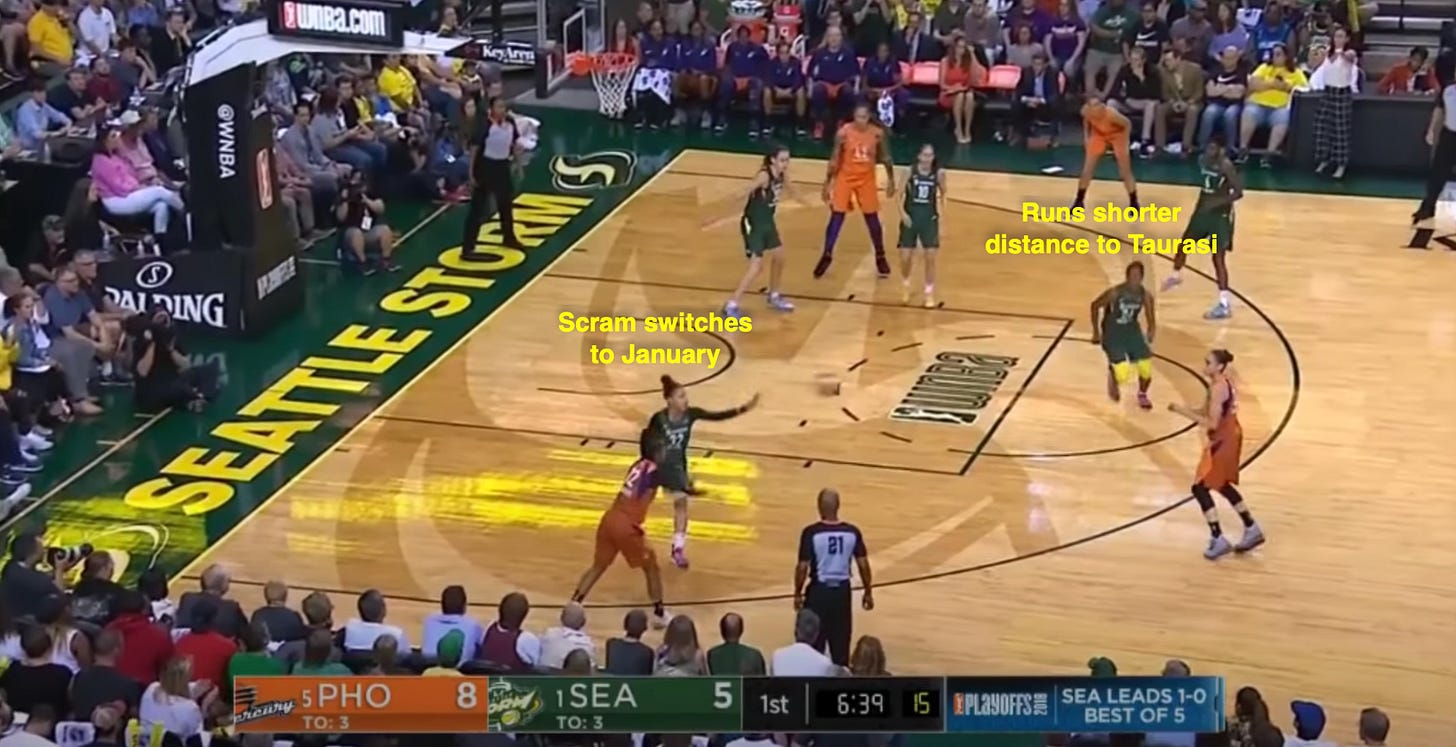 That's textbook SOS.
6:50 — Stewart effectively jumps out to trap Taurasi, leaks out when the Mercury miss, then pins Taurasi on her back in transition and scores on Birds lob pass. Sheesh.
9:50 — Bird is the default double-teamer on Griner, and for good reason. By the time Griner hits the floor, Bird is in her face.
But the real problem is that Talbot takes too long to read the play and cut to the basket. If she went a beat sooner, Loyd would have to cover a cutter and a shooter at the same time. Because she waited, Griner's passing outlet isn't there at the right moment and Loyd is able to check both players at once.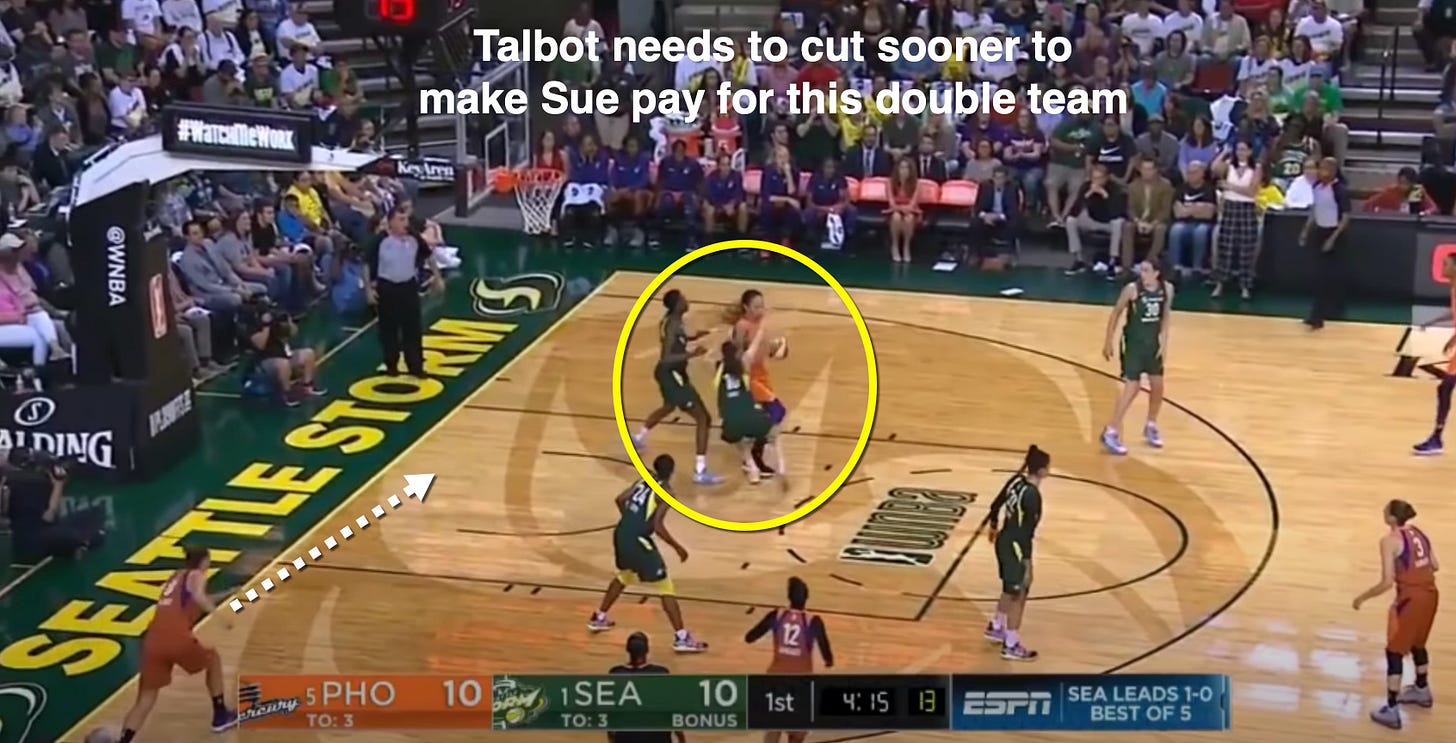 10:27 — Griner jogs back too slowly to wall off the paint and then aimlessly swipes at Loyd for her second foul. Remember this play.
13:25 — This is art. Taurasi gets Howard, a terrific switch defender for a big, isolated beyond the arc. She opens Howard up juuuust a bit to get to her right hand, then slowly drives her shoulders into Howard's chest to get her body in front and cut back to the left.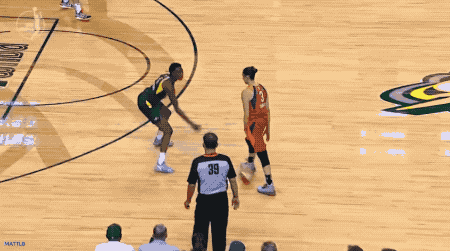 Being a great one-on-one player is about so much more than having a great first step.
SECOND QUARTER
17:00 — The Mercury are using Bonner in a stretch 4 role at the top of the key to create room for Griner. That makes sense in theory, but the downside is that Bonner is getting antsy from not touching the ball much. With Taurasi and Griner out of the game, Bonner meanders on a middle pick-and-roll and throws up some junk after picking up her dribble. "Gotta trust your teammates there," says ESPN analyst Rebecca Lobo, correctly.
20:14 — Griner is back in and being used effectively as a dangerous pick-and-roll threat to suck in help defenders. It's Griner's hard dive to the hoop that sets up this wide-open Turner three.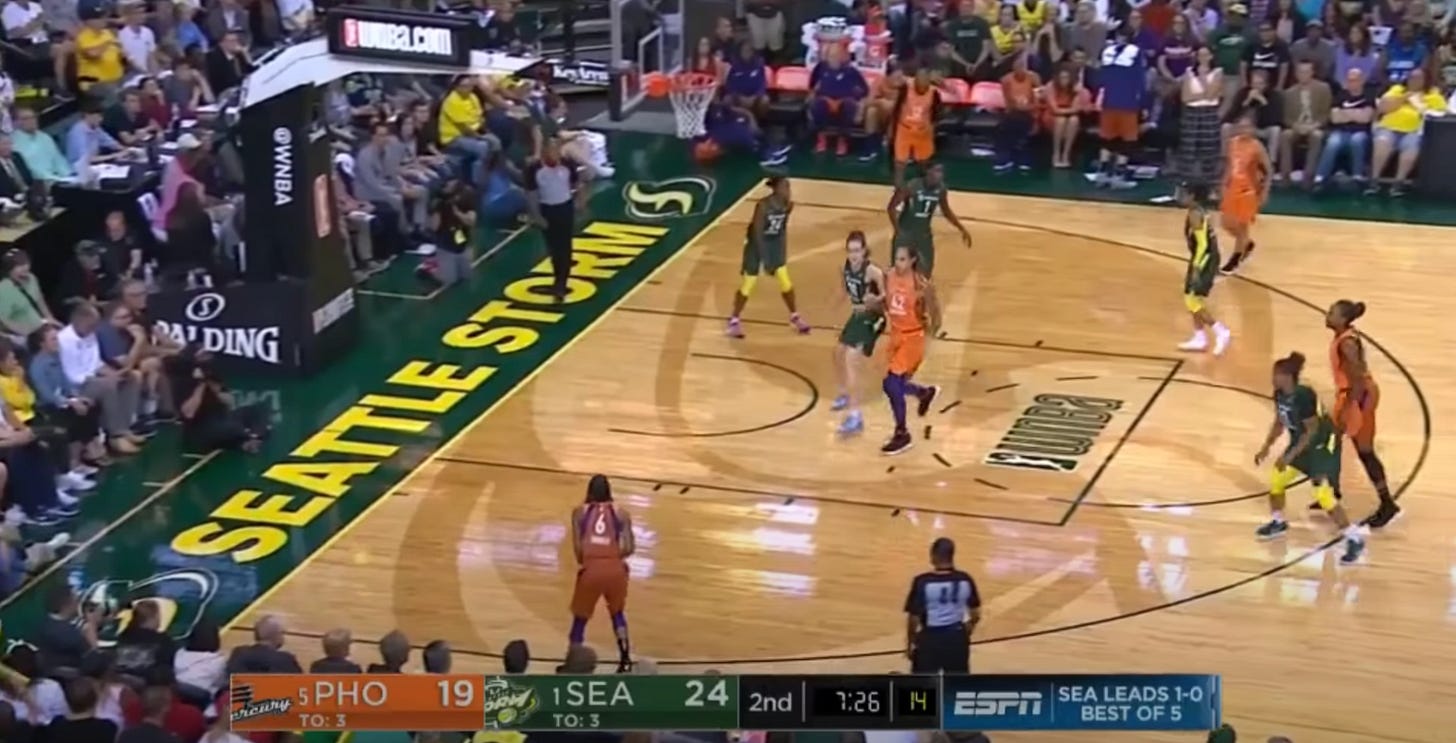 But Turner misses. In fact, Phoenix doesn't hit a three until the fourth quarter. Five minutes later, Jordin Canada, the Storm's backup point guard and an 18-percent three-point shooter, nails a triple after Phoenix correctly goes under on a pick-and-roll. Make or miss league.
25:44 — Seattle uses SOS to disguise its coverage on a Griner post-up. Bird stunts early from the top of the key to make it look like she's double-teaming. In reality, Loyd comes from the wing, Bird races immediately to Loyd's man, and Stewart sinks into the middle to stop Bird's man from cutting. It looks like a football zone blitz.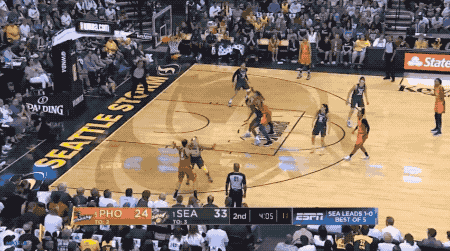 Stewart scores on the ensuing transition play and the Storm lead by 11.
28:48 — A successful pick-and-roll doesn't just depend on the two players directly involved. Case in point: Bonner and Talbot aren't optimally spaced on the left side, preventing Taurasi from taking advantage of the 3 on 2 situation Griner's roll creates.
This frame shows why the play failed. Look at where Bonner and Talbot are standing compared to where they should be standing to best stress Seattle's two help defenders.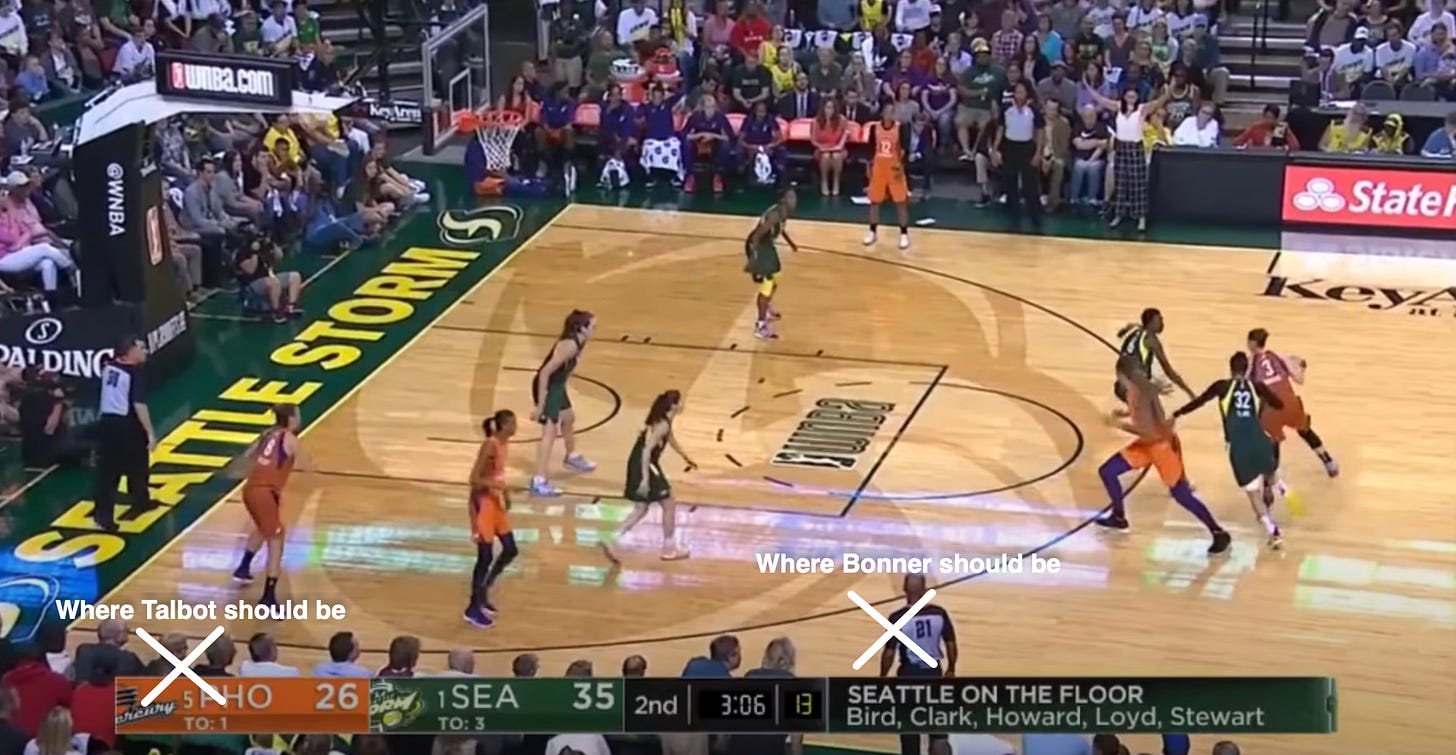 This is a timing play, and Bonner starts where she does for a reason. She's supposed to be looping to the wing — the "slot," in basketball parlance — at the exact moment Griner dives to the hoop. That way, Bonner becomes an additional passing outlet for Taurasi when she's trapped.
But Bonner is slow to make her cut, in part because she stands upright after not receiving the ball in the post. Maybe she's frustrated because she didn't get a touch. Maybe she's fatigued. Either way, she's too slow to present herself and Taurasi is forced to pass to the other side.
As a point of comparison, notice the spacing on this pick-and-roll later in the half. Taurasi pass leads the highlight reel, but she's only able to make it because she can use the threat of Bonner spotting up to freeze Stewart.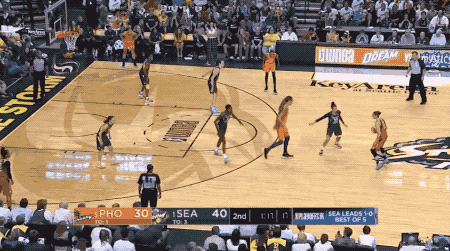 30:29 — Stewart doesn't get an assist on this Howard bucket, but she may as well have. Bonner and Griner are so focused on stopping Stewart's dribble handoff that they get caught flat-footed when Howard keeps the ball instead.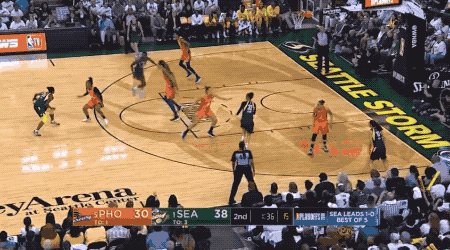 32:49 — Bird, who has been looking to pass off the pick-and-roll all half, chooses the perfect time to drive hard to the hoop off Stewart's screen. As Phoenix hugs Stewart, Bird throws the ball ahead with her left and takes advantage of the open lane. It looks like an awful defensive breakdown, but only because Bird picked her spot to attack. Remember this play for later.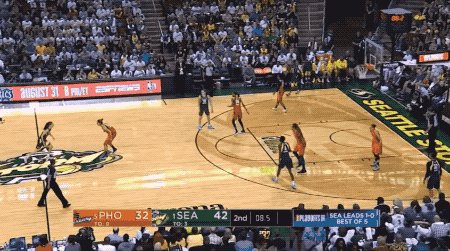 Seattle leads by 12 at halftime and Phoenix looks doomed.
THIRD - MID FOURTH QUARTER
Before we jump ahead to Phoenix's fourth-quarter comeback, let's do more Stewart appreciation.
35:02 — We've already seen how challenging it is for the Mercury to defend any sort of Stewart/Howard two-man action. They appear to shut down this curl nicely by switching Griner onto Stewart, forcing Seattle to reset. The tempting move is to give the ball to Stewart and let her take Griner one-on-one, but that's not how the Storm play.
Instead, they space Stewart out to pull Griner away from the hoop, run a pick-and-roll with Bird and Howard, then pitch back to Stewart so she can attack Griner with a running start. Stewart's versatility opens that option.
36:54 — Longtime readers know how annoyed I get when "athleticism" is used synonymously with leaping ability or speed. The balletic footwork Stewart uses to make this move and stay on balance to finish the play requires much more "athleticism" than jumping high. (Athleticism, I fear, that is much harder to activate with a surgically repaired Achilles tendon).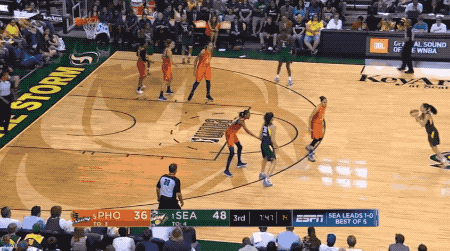 Lobo marvels at Stewart's "skill set on the offensive end," but doesn't mention the "a" word once.
41:07 — Bird loops around to set a backscreen for Stewart. Two Mercury players run with Stewart, afraid of yielding anything to her. That frees Bird to sneak back to the perimeter and drive with little resistance.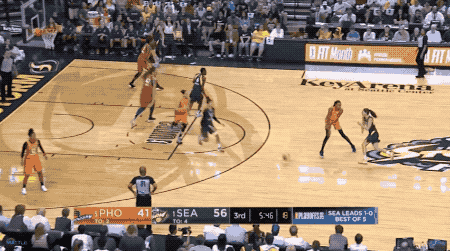 46:39 — Taurasi hits a difficult fadeaway falling out of bounds. As the ball goes through the net, Stewart, sensing an opportunity to punish the Mercury before Taurasi can get back, rushes to quickly inbounds to Bird. Bird throws a baseball pass to Clark, who is angled off by Griner under the hoop. Good idea, but time to re-set.
Except, as all this was happening, Stewart raced from out of bounds to meet her teammates on the left wing. She knew Clark's best move was to pass along the baseline and funnel the ball back out. Because of that ingenuity, Stewart's in position to step into a three and draw the foul.
OK, enough Stewart. Let's skip ahead.
Storm 73, Mercury 56. Five and a half minutes left. It's over … right?
1:03:32 — Not so fast. Phoenix has cut Seattle's lead to 11 and is about to push even further.
Remember how using Bonner as a stretch 4 made sense in theory, but not necessarily in practice? Phoenix switches strategies and brings in veteran big Camille Little, shifting Bonner back to small forward. Little isn't much of a scoring threat, but she sets terrific screens and makes Stewart work on the other end. Meanwhile, Bonner can play more with the ball in her hands, plus she now has a size advantage against either Bird or Loyd.
Those two elements converge on this dribble handoff. Bonner gets to make a play off the dribble and Little uses her veteran savvy to facilitate it.
1:04:37 — Now this is a well-executed out of bounds play. Inbound to Bonner, who feeds January zipping to the top of the key for what looks like a double pick-and-roll. Griner rolls, Taurasi fakes a backscreen before stepping out to receive the pass, and Little cuts out of the way to distract Stewart. As Griner sneaks in front of Howard, Taurasi uses the threat of Bonner in the corner to freeze Loyd and hit Griner in stride for the layup.
1:06:37 — We've already shown Stewart making PhD-level pick-and-roll reads as the ball-handler. Here she is doing the same as the screener. When Bonner goes under the screen on Loyd, Stewart rolls into her path, turns to screen her the other way, and then slips into the resulting open space.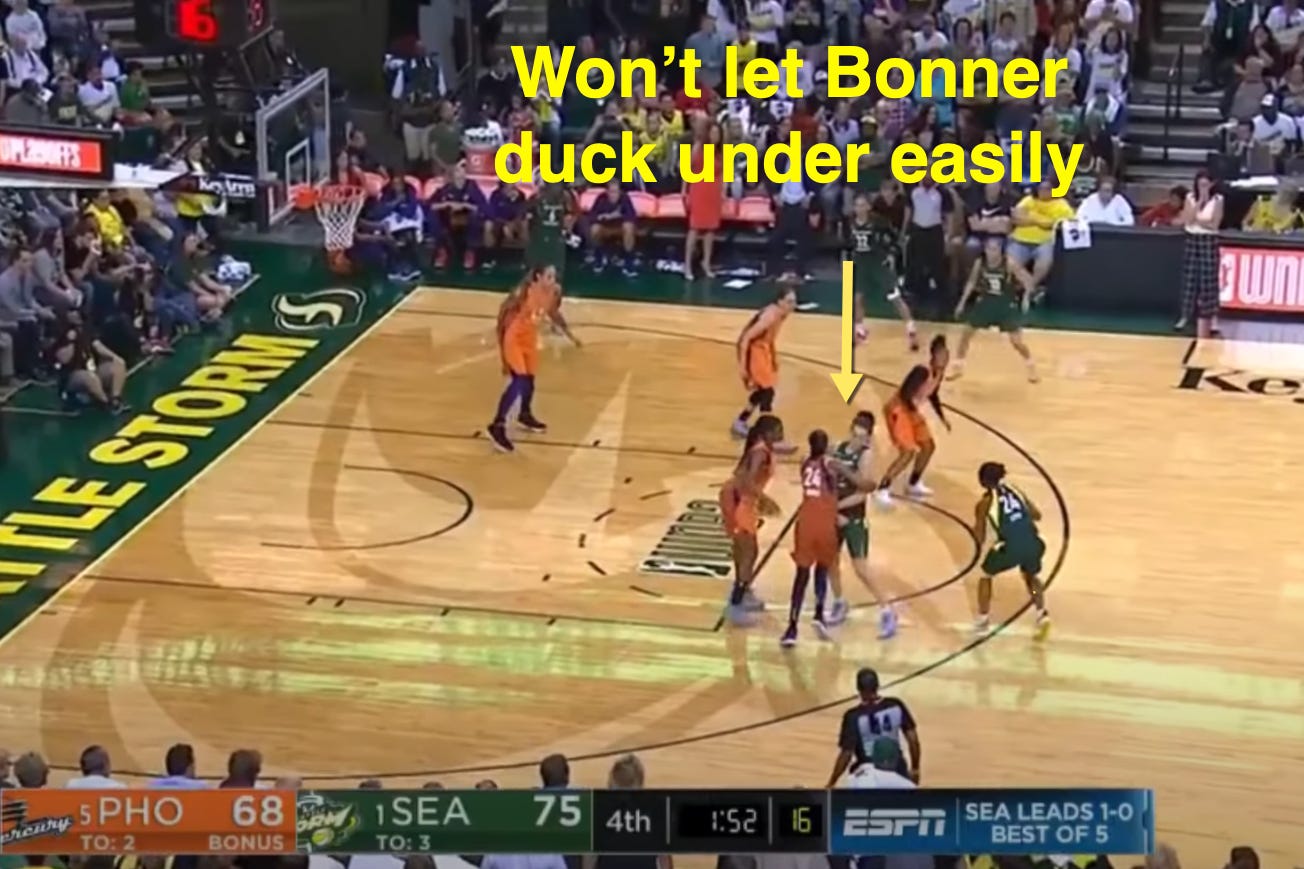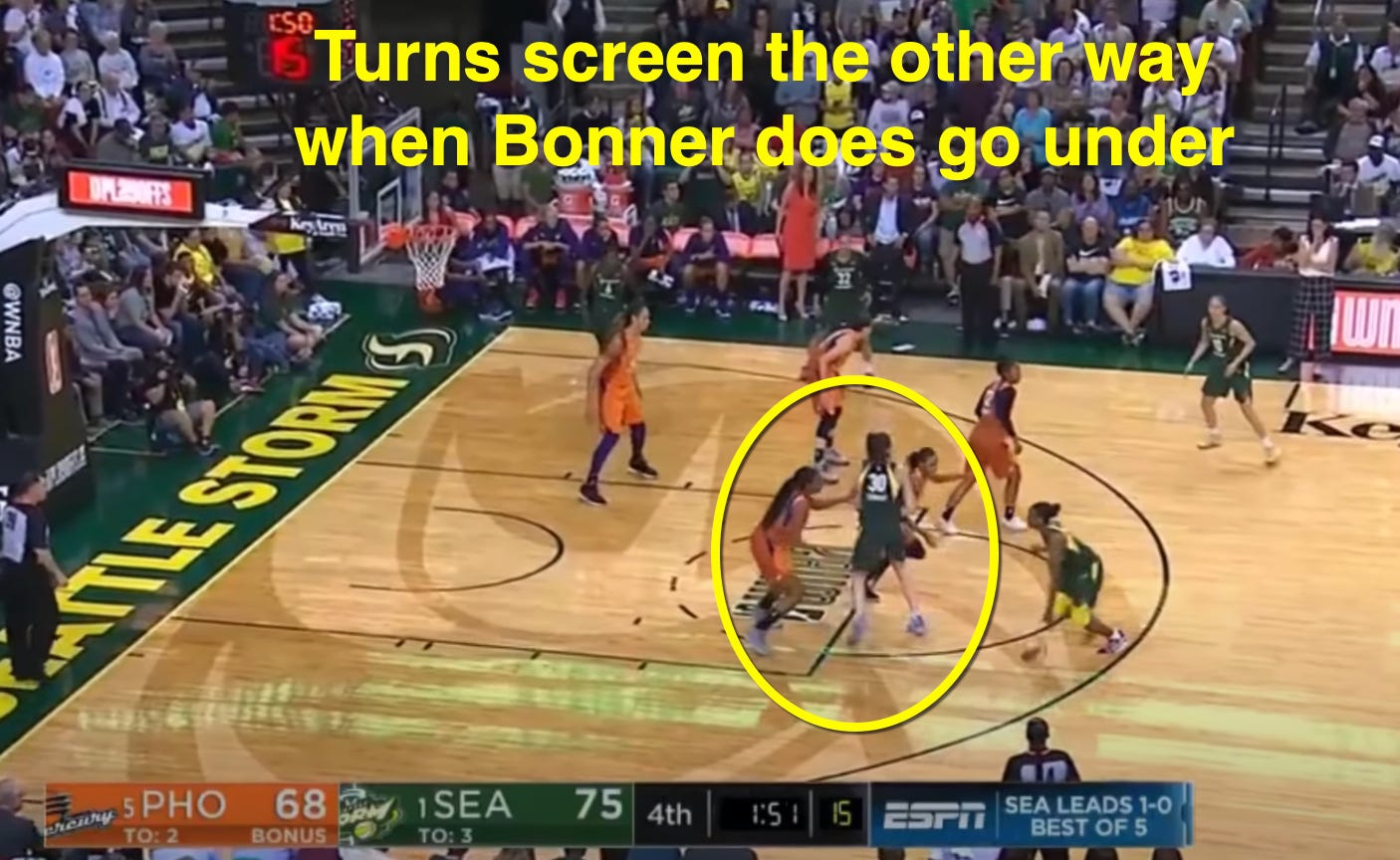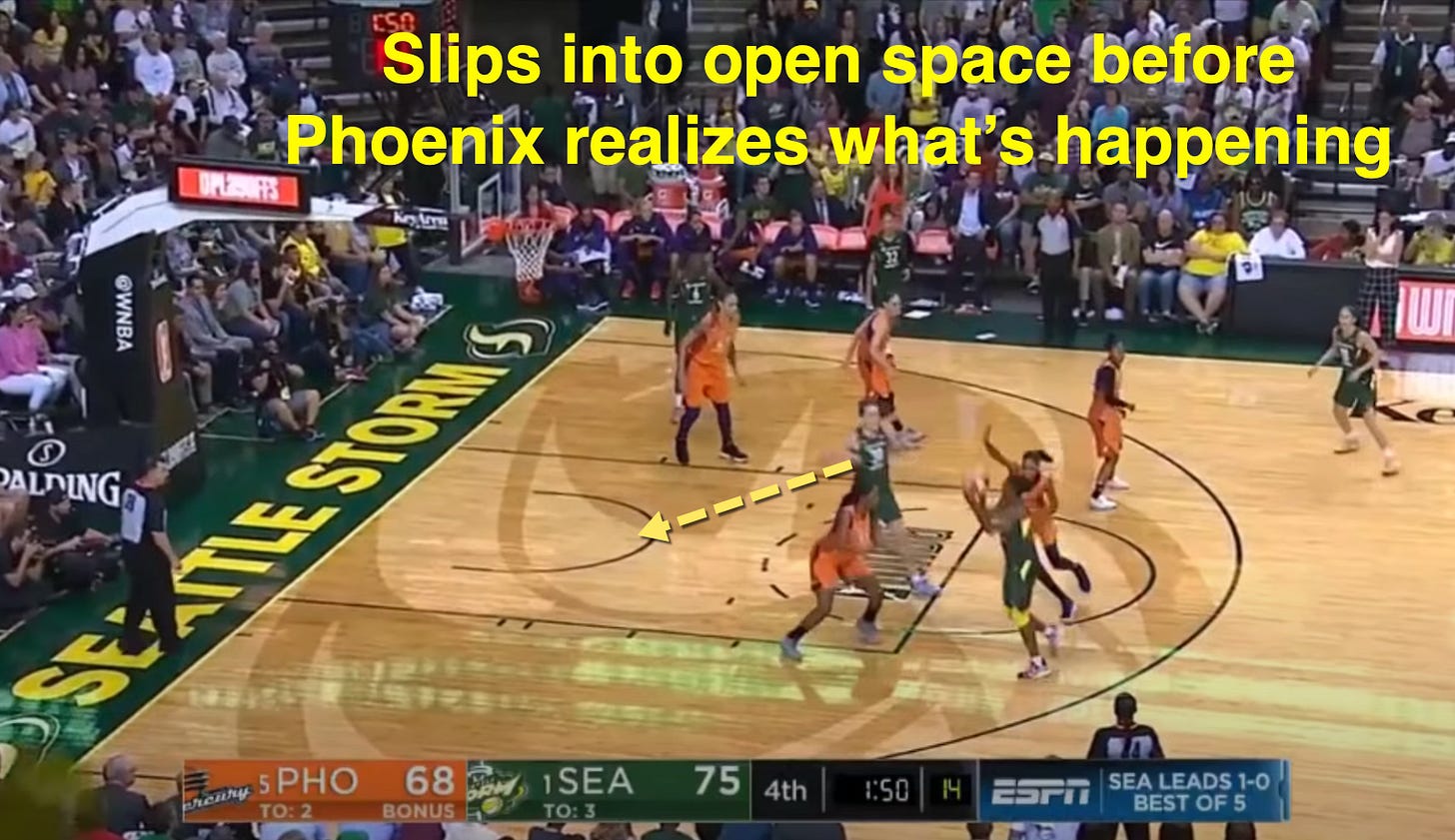 All that's left for Stewart is to finish over Griner with her off hand, which of course she does. That should be the dagger, but it's not because Taurasi is just getting started.
1:06:55 — Clark goes under a Taurasi/Griner ball screen for some reason. Pull-up 3. Bucket.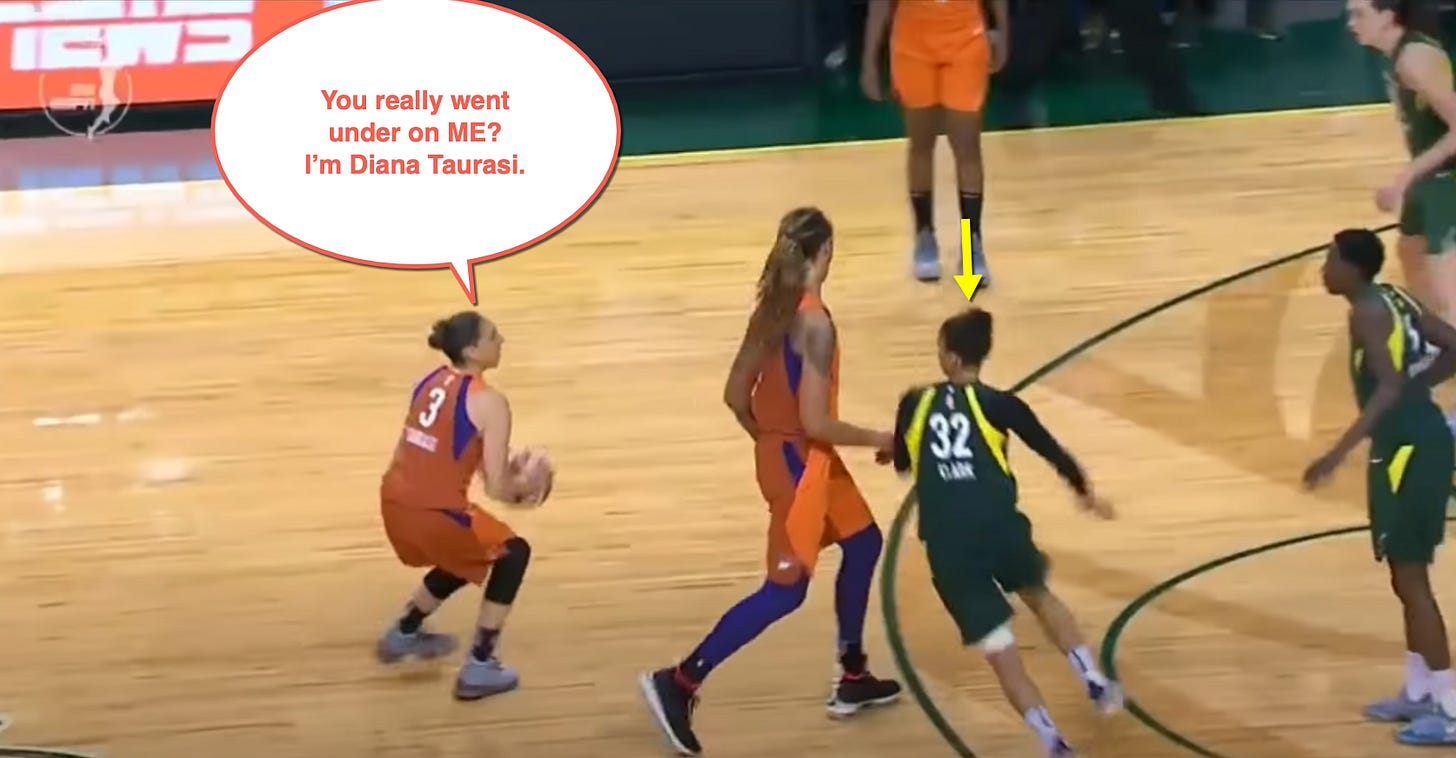 1:07:24 — Loyd missed this shot. I'm still not sure how.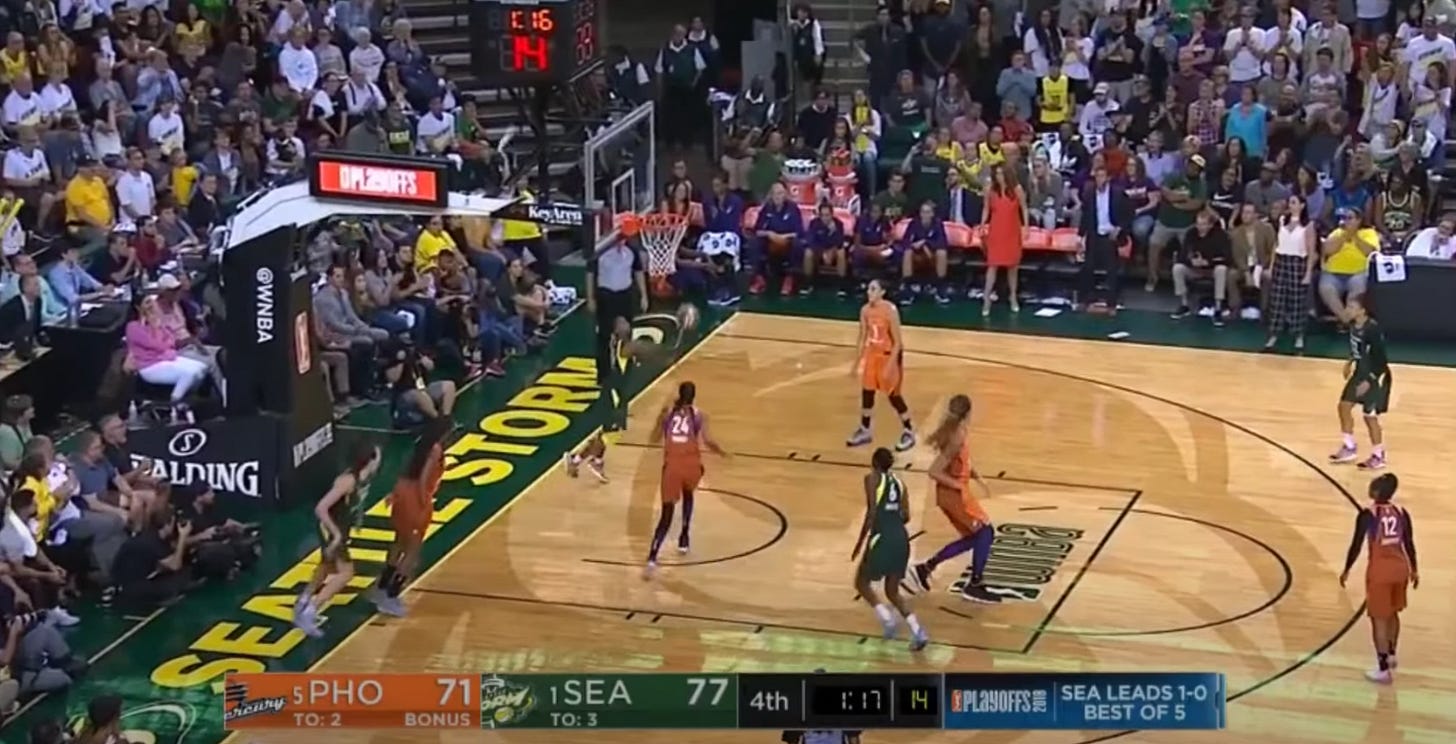 1:09:12 — Down six, Phoenix runs this remarkable out of bounds play to get Taurasi a three. January and Little set solid screens, giving Griner enough space to catch the crosscourt inbound and Taurasi room to rise and fire.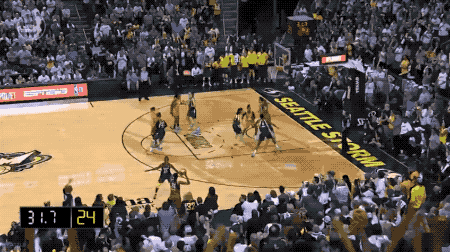 It takes three seconds, so Phoenix doesn't need to foul on Seattle's next possession. Bird misses a long three, and the Mercury get it back with 7.3 seconds left.
1:14:52 — This is not a replay. Phoenix runs the exact same play, and Taurasi makes it work. Seattle is ready this time, but it doesn't matter.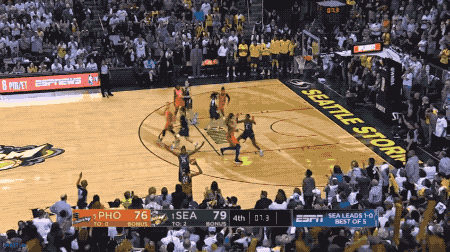 It looks like Taurasi wants to come off Little to her right, but is forced baseline because Clark is blocking the way. Howard closes out to Griner's right because she knows the pass is going back to Taurasi. Bird begins sprinting to the spot Taurasi wants to go before Griner even catches the ball.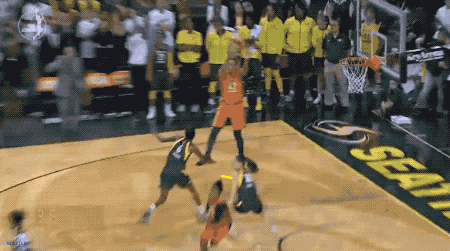 None of it matters. Somehow, we're going to …
Overtime
1:19:00 — Remember that lazy second foul Griner picked up in the first quarter? This one's even worse and far costlier.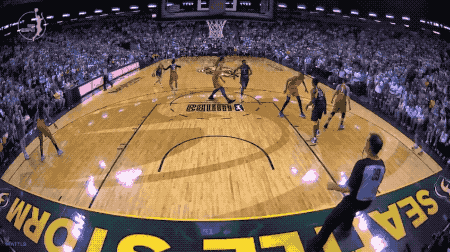 That's her sixth, and it's inexplicable. Lobo charitably calls it a "rookie foul."
What compelled Griner to do that? Who knows. Just keep in mind that she's played 35 minutes rolling hard to the rim on one end and chasing Stewart and Howard out to the three-point line on the other. Fatigue is as good an explanation as any.
1:24:57 — Against all odds, the Mercury take the lead and have multiple chances to extend it. But without Griner in as a roll threat, Taurasi and Bonner can't get good looks for themselves or anyone else.
That sets up this pivotal sequence that looks exactly like the one to close the first half. Bird rubs off Stewart, and since Little is reluctant to leave the MVP, Bird zips down the lane for an uncontested layup. Seattle leads by one and wouldn't trail again.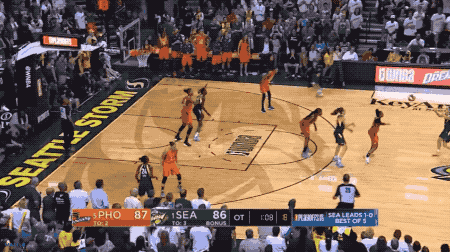 January is so close to getting over Stewart's screen, but the MVP nicks her at the last instant to free Bird's drive. Game of inches, this.
1:27:30 — Same score, jump ball after a wild rebound scramble. Howard tips the ball up and Loyd leaps faster than Angel Robinson, Griner's replacement. Lobo's baffled by the foul call, but Robinson clearly hit Loyd in the face.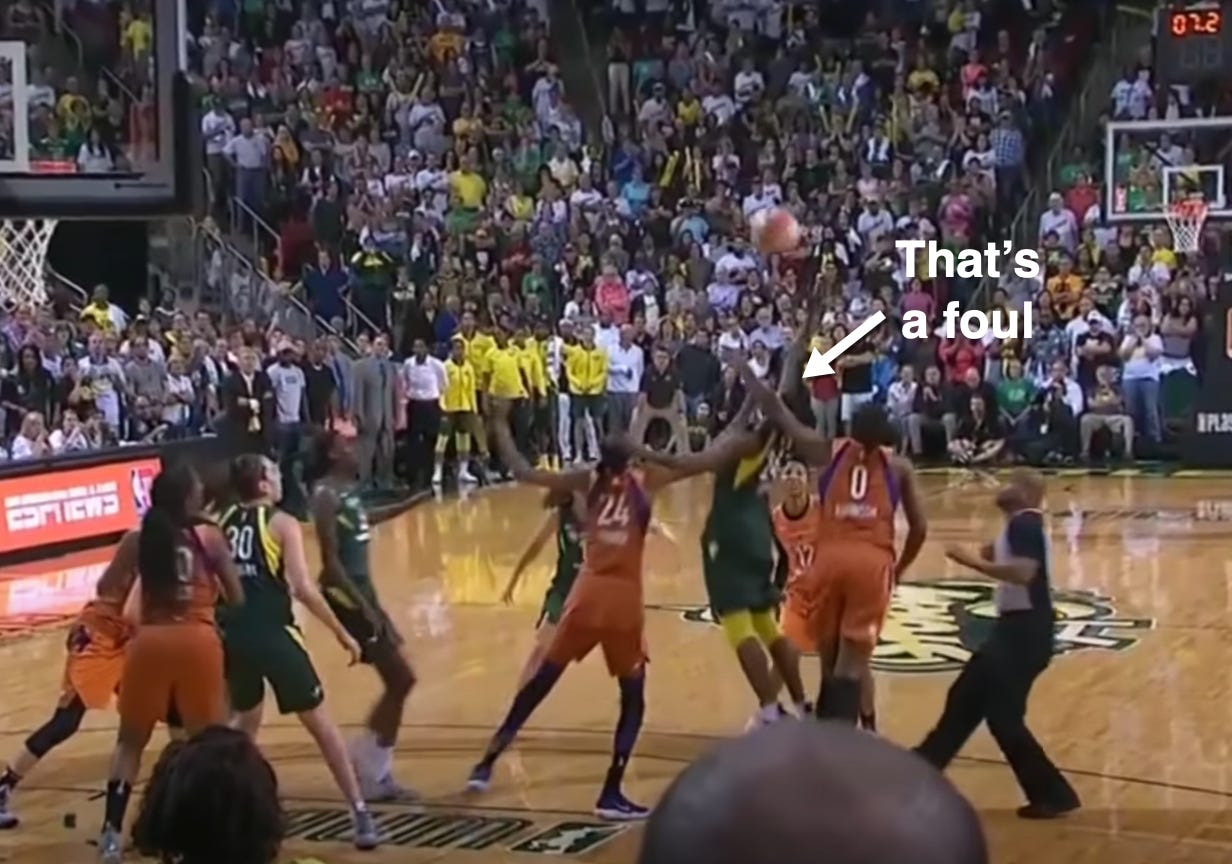 Loyd makes the first and misses the second, but Howard wedges Little under the hoop to swipe the rebound away and force a tie-up. (She might've gotten away with one there. Lobo certainly thinks so).
Stewart and Little are on the jump. I took the liberty of spotlighting Bird's box out to get to the loose ball. If there's any basketball nerd in you, you'll thank me later.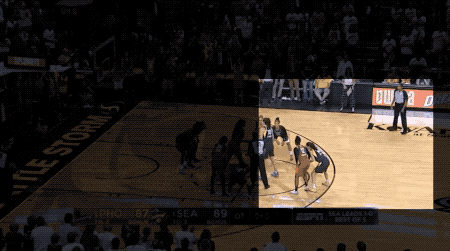 That'll do it. This diary's long enough, so let's end with this thought.
I really hope Stewart is healthy and the Storm and Mercury give us an encore series this fall.