Ahead of his (Miller) time
One prominent shooting guard from the final episodes of The Last Dance would have been a more dangerous weapon today. It's not No. 23.
Quick housekeeping note: I wrote a piece for FiveThirtyEight examining the level of competition Michael Jordan and LeBron James faced in their playoff runs. Jordan fans will like this more than Bron fans. Also, Ben and I recorded our first Limited Upside pod earlier this week discussing how the NBA has changed since the 90s.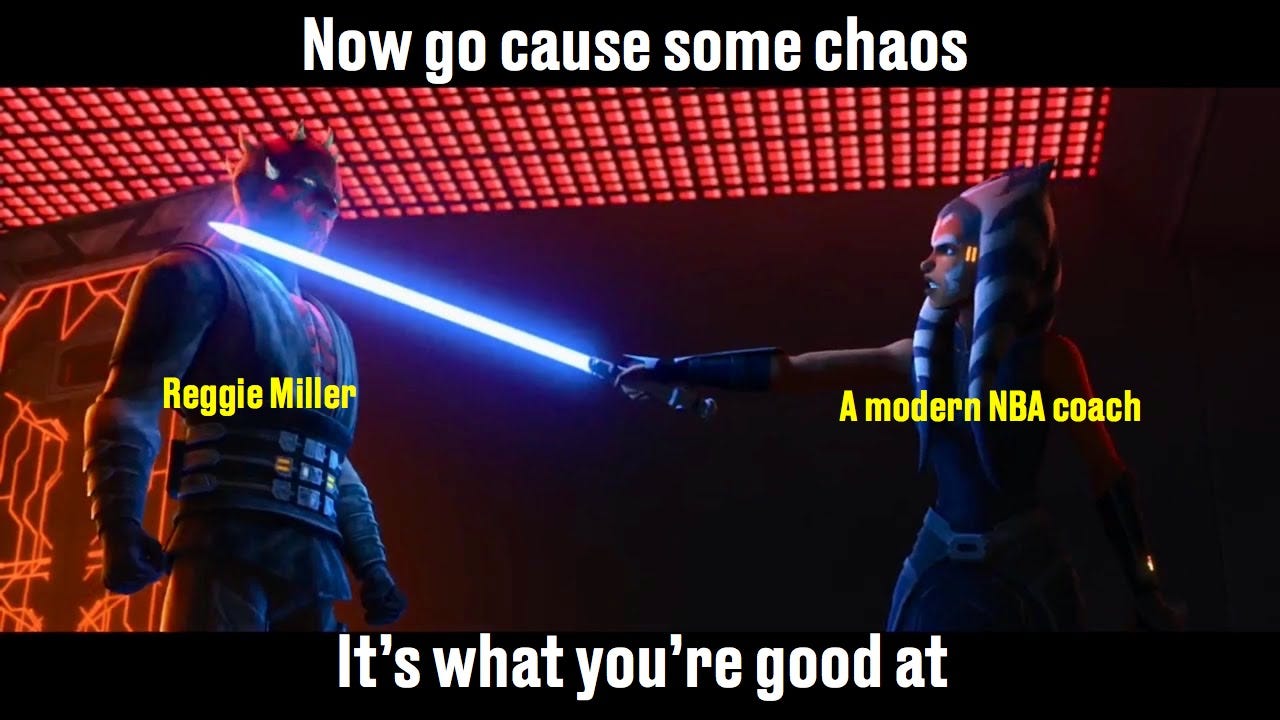 ESPN's The Last Dance concludes this Sunday with the final two episodes of the 10-part series. Because of that – and because we're still a ways off from live sports returning – we're getting a heavy dose of "Imagine Michael Jordan in today's soft NBA!" in the build-up.
You'll be shocked to learn that many of Jordan's contemporaries think he'd be even better.
Their logic makes sense, if only because everyone scores more today with the increase in pace and three-point shooting. But even Jordan's backers accept the premise that his game needed to evolve to fit today's times. Rose insisted Jordan would become a knockdown three-point shooter, which he wasn't in his day. Durant declared that Jordan "can adapt his game to anything." Jordan himself told The Athletic that "I'm pretty sure I would make my adjustments."
You might think he'd adjust easily. (I certainly think he would). You might think he'd struggle a bit. Either way, MJ needed to look and play slightly differently than the MJ the documentary is celebrating. So would most players that thrived in their eras. MJ is MJ, but in this respect, he's no different than most all-time greats.
Most, but not all. There are uniquely successful players that were good in their time, but would be so much more fun if they were born at a different one. Those are the most interesting players to discuss when doing these time travel hypotheticals. And my mind immediately travels to a player that's about to play a key role in the documentary.
Reggie Miller was a very good player in yesterday's style. He would have been even deadlier in today's.
It's not
just
because of the three-point shooting, though we have to start there
Miller was one of the most accurate volume three-point shooters of his time. He shot nearly 40 percent for his career while taking 4.7 threes per game and 4.9 per 36 minutes. By comparison, 141 players average five or more three-point attempts per 36 minutes this season. One. Hundred. And. Forty. One.
A 2020 version of Miller is getting 4-5 more three-point shots off every game. That means 4-5 more shots like this.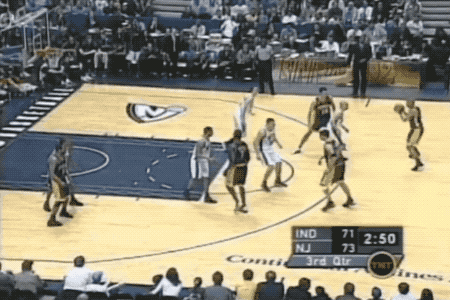 Or this.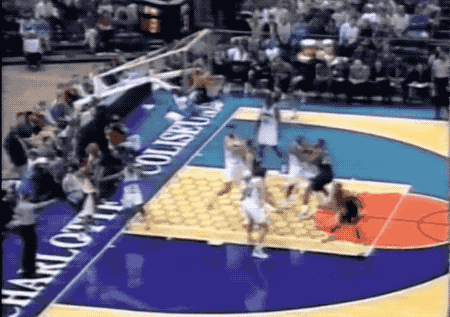 Or this.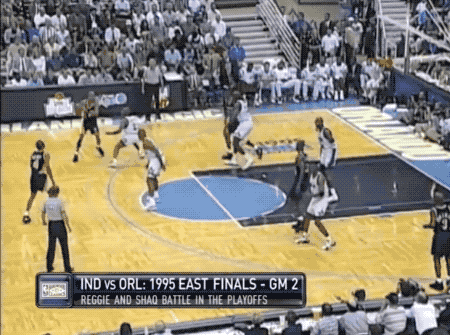 Watching Miller work baseline screens is like watching a parent play keep-away with their child. Miller bounces in place to freeze defenders, then darts one way or the other with alarming quickness. The second the defender loses contact is the second he has them beat. The only decisions left: which screener to use and what angle to take. Regardless, Miller covers that ground faster and more directly, forcing the defense to take the long way.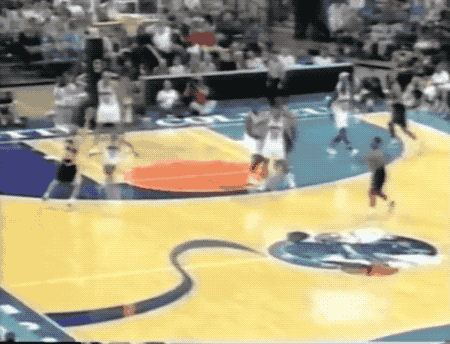 Other great shooters are elusive moving without the ball, but Miller was faster than his peers despite operating in tighter windows. He understood that he needed to finish his moves with a large step around the screen to get enough power to plant his leg into the shot. That's how he was able to stay on balance to shoot after running at full speed.
It didn't matter which foot that was or which way it pivoted. It could be his left foot swinging forward for his right to step ahead.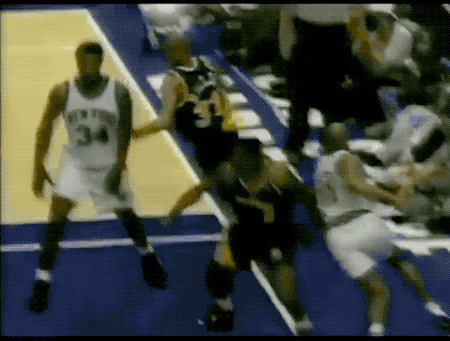 Or his right to swing ahead while his left stepped in slightly behind.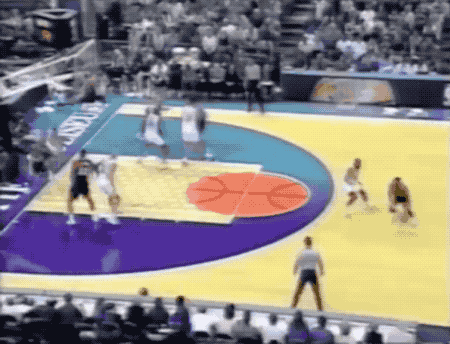 Or a reverse pivot away from the hoop to create even more space.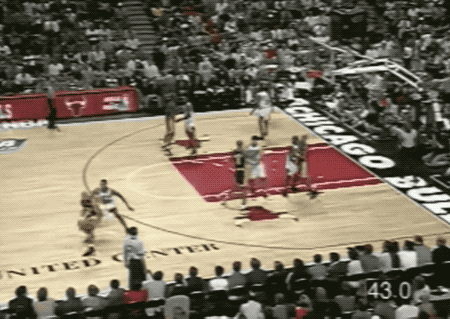 Miller didn't just get threes off those pindown screens. He also snuck away on the break when defenses sucked too far in, rose up in isolation situations, and tossed in off-the-dribble treys and stepbacks during a time when those were frowned upon. He was taking giant steps away from the hoop years before James Harden and Luka Doncic made it fashionable.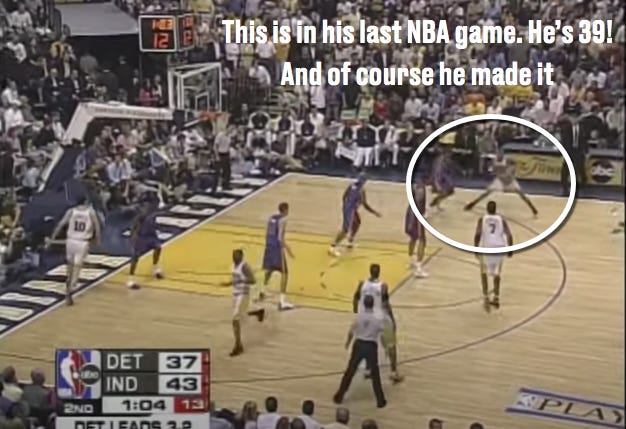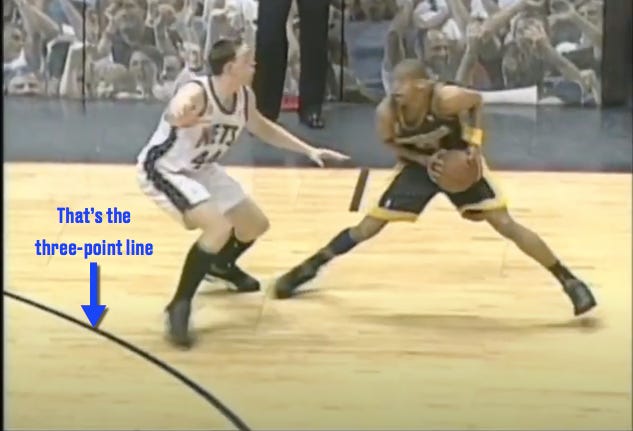 All this despite not seeking out threes in the same way stars do today. Miller once told SI's Jack McCallum that he never cared if he shot a long two instead of a three. "It's too difficult just to get open," he said then. That attitude is one several players share to this day, and it makes sense. The less conscious you have to be of your court placement, the more you can focus on making shots.
In practice, though, few shooters have that long two problem. The decision is taken out of their hands by better spacing, clever coaches, smart screeners, and the league-wide re-education on three-point shots. Miller didn't need to seek out the long line because he'd naturally drift behind it anyway.
Reggie was not just a shooter
That reality tends to get lost because most of Miller's iconic highlights are threes. But it's still reality.
Miller was a shifty slasher that used the threat of his jump shot to force defenders up before he zipped by them. Once he got his hips by his defender, he had them beat. It's no accident he averaged more than five free throws a game for 11 out of 12 years from 1989 to 2000.
That wiry frame that seemed too thin to many casual observers was one of his greatest assets. He understood that the crucial moment in any one-on-one duel is when the offensive player can get the inside angle on the defender. With the threat of his jumper fresh in everyone's mind, it didn't take much to sneak his shoulders in front of his man's hips.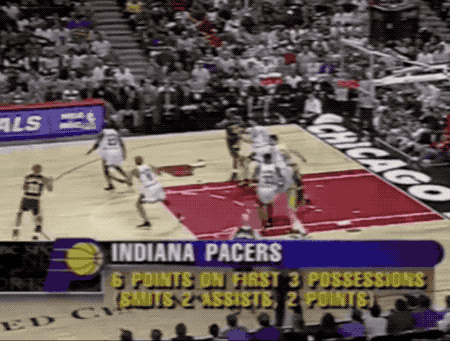 Miller's signature move was a one-footed runner that erased whatever space his defender dreamed of using to recover. He drew countless fouls on these shots, but also made plenty without getting the call. (The wing bank shot while leaping off the wrong foot was a particular delight).
He also used gather steps after picking up his dribble to maintain the angle, much like the great drivers do today. It may not look like it because this isn't not a post-up or a turnaround, but Ray Allen got outmuscled here. This is how Giannis Antetokounmpo, Kawhi Leonard, and LeBron James plow through defenders today.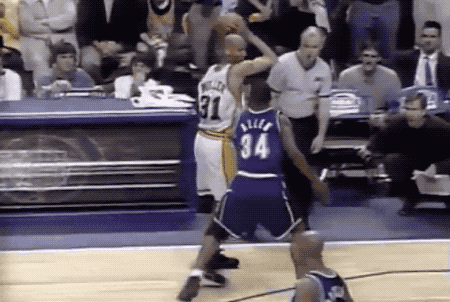 The Pacers enhanced this Miller skill by getting him the ball out of the triple threat with a live dribble. The combination of his shooting skill and a blink-if-you-miss rip-through move left countless defenders in the dust. Poor Kobe Bryant doesn't even know what hit him.
The idea that Miller was just a bucket-getter doesn't pass the smell test either. Miller's assist numbers were pedestrian and he was at his best when he didn't need to change direction, but he read the floor well and delivered decisive, accurate passes into the post and back out to teammates. Considering how often Miller had to make quick decisions on the fly, it's remarkable that he posted such minuscule turnover rates.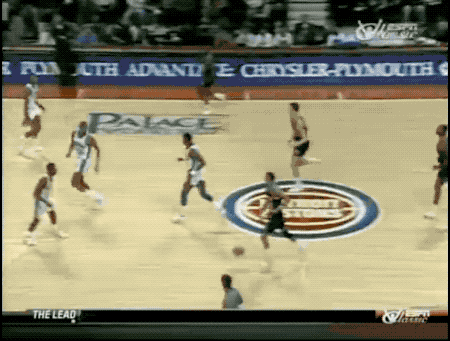 This specific combination of skills separates Miller him from effective run-curl-and-shoot-quickly guys like Kyle Korver and J.J. Redick. Even Allen, whose game resembles Miller's while also being a top scoring option on his teams, wasn't as dangerous in isolation situations, quick with pass-shoot decisions, or as sure-handed in traffic. There's a reason Miller's numbers went up in the playoffs despite the increased attention he received on the scouting report.
Think of Miller's built-in handicaps
The most obvious one: he got held and bumped a lot more than today's shooting stars. These were not fouls.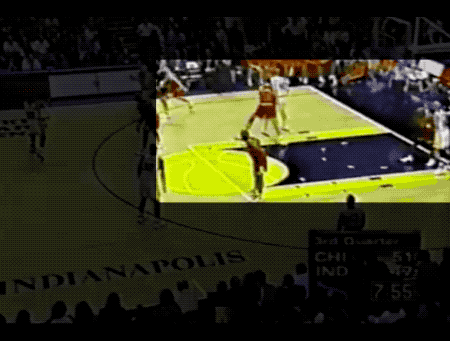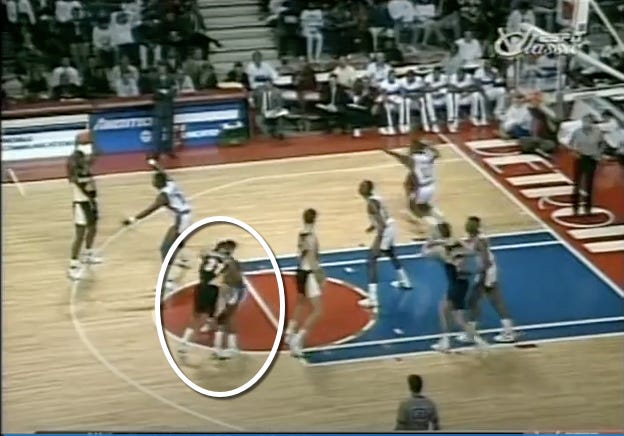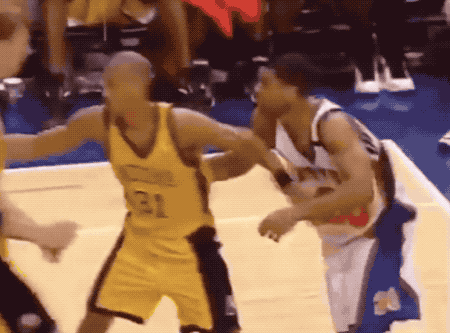 Other impediments hid in plain sight. Miller spent most of his career in lineups that featured:
Post-up big men that needed touches on the block. (Rik Smits, Jermaine O'Neal).

Dirty-work grunts that rarely shot outside of 15 feet. (LaSalle Thompson, Dale Davis, Antonio Davis, Jeff Foster).

Wing partners that wanted to drive or post up themselves instead of spot up and shoot. (Derrick McKey, Jalen Rose, Al Harrington, the artist formerly known as Ron Artest).

Reluctant and/or inaccurate perimeter marksmen at point guard (most notably Mark Jackson, but also Micheal Williams, Haywoode Workman, Jamaal Tinsley, and Travis Best).
While they helped him get open with screens and fed him the ball, their limitations forced Miller to reign in his own game for the good of the team.
That played out in a few specific ways. Because Miller was such an accurate entry passer and deadly shooter, his baseline curls were often designed as first actions to get Smits or O'Neal better post-up position. That helped those bigs, but certainly not Miller individually.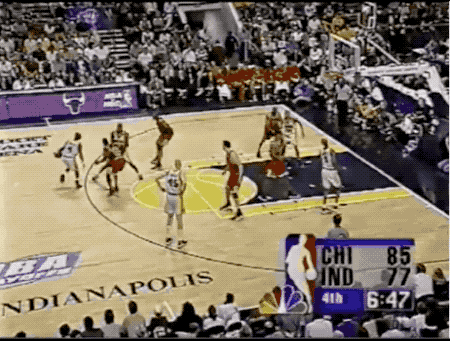 Even the maze of baseline screens designed for Miller often worked to his detriment. Indiana's bigs lacked shooting range or playmaking ability out of the high post, so they had to set their picks close to the basket. That meant Miller didn't always have enough time to get behind the three-point line, which meant he didn't always have enough space to stretch the help defenders cheating off their men to swarm to him.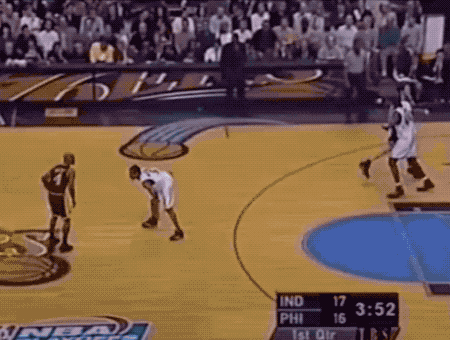 Most importantly, the Pacers weren't built to take advantage of Miller's shooting on the break. His game was tailor-made for those moments of confusion when both teams are changing ends and finding their matchups. That's one reason he torched the Knicks, a slow-paced team with rigid sets of rules that worked best in a half-court game. (As Miller told McCallum: "Their strategy on fast breaks is to retreat to the paint and then to spread out. So, I trotted up slowly.").
The problem was that Indiana was also that kind of team, especially after Larry Brown took over in 1993. Indiana's average rank in pace during Miller's tenure was 19th, and they only cracked the top 10 four times in 18 years. Play-by-play data is too spotty to measure transition effectiveness before 2000, but from 2000-01 to 2004-05, only Miami averaged longer offensive possessions after opponent misses. Per Cleaning the Glass, the 2003-04 and 2004-05 Pacers ranked 26th and 30th, respectively, in points produced in transition. That's a long way of saying that the Pacers didn't run much even though their franchise player had a game sculpted for those very situations.
The Pacers did sometimes flow into early-offense screens to catch defenses off guard, but they didn't do it enough. This should have been a scripted staple in their offense instead of a curveball they threw to mix things up.
Imagine a player like Miller in a modern offense
Imagine a version of Miller that's free to launch whenever he had a sliver of daylight.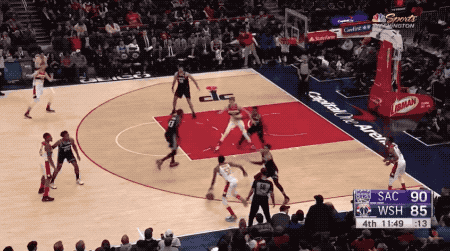 Imagine one whose show-and-go moves and rip-throughs out of the triple threat get paid off with an open paint instead of one clogged with bodies.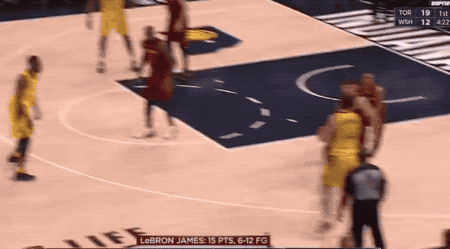 Imagine him zipping around the same obstacle course of screens, except higher up on the floor.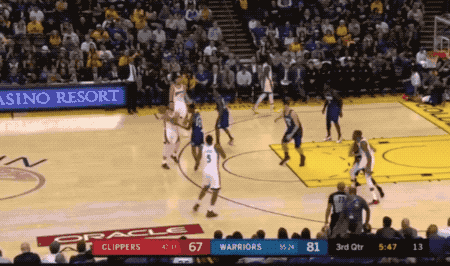 Imagine him running dribble hand-offs and other nifty two-man stuff with skilled big men instead of sturdy oak trees.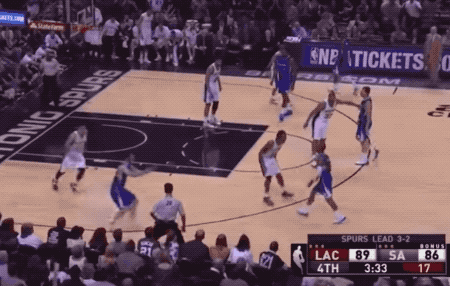 Imagine his teams leveraging the fear of leaving him into screens that nudged another perimeter teammate open.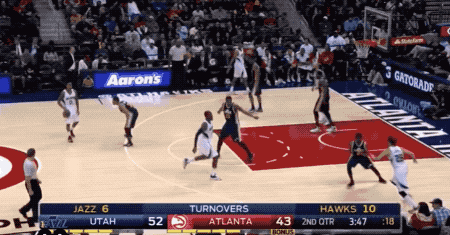 Imagine him running circles around the three-point line in transition, waiting for the perfect moment to plunge the dagger into an opponent's chest.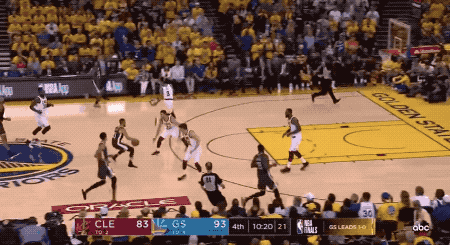 Without all that, he managed to be a multi-time All-Star and Hall of Famer while raising his game in the postseason and gracing our memories with countless clutch shots. Now imagine what he could do in an era engineered for perimeter chaos agents like him.
That's the alternate reality I'd rather imagine than one that takes a legend that achieved GOAT status in his time and forces him to do it again in a new setting.